Last updated on February 19th, 2023 at 01:57 am
As a
BetterHelp
affiliate, we may receive compensation from BetterHelp if you purchase products or services through the links provided. theMentalDesk.com may be compensated for referrals by the companies mentioned below. As an Amazon Associate we earn from qualifying purchases.
Suffering from an abusive relationship is one of the most terrifying things someone can go through. Regardless of how wonderful your relationship started, anyone who has been subjected to verbal abuse, emotional manipulation, gaslighting, or physical violence has the right to leave a relationship that has become unhealthy, harmful, and toxic. It is never your fault if your partner has abused or is abusing you, and there are services and resources available to help you. In this article, we will explain how to find domestic violence counseling near me.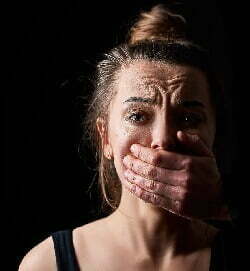 Domestic Violence Defined
Always remember that knowledge is power. Keeping yourself informed about domestic violence as much as possible will help you make better decisions in your life. Let's start with a definition of domestic violence. Domestic violence is defined by the National Domestic Abuse Hotline as a pattern of behaviors in an intimate relationship used by one partner to control the other. Controlling and violent behavior includes intimate partner violence, verbal abuse, domestic violence, financial abuse, emotional manipulation, and threats of physical abuse.
Domestic abuse is legally defined in many states, and some definitions are more specific than others. Some states only regard physical abuse as violence; however, this narrow definition might make it difficult for people to determine if they are being abused or not. Domestic violence, as previously stated, is not just limited to acts of physical violence that make visible wounds or marks. Domestic violence survivors may be familiar with the following other types of abuse:
Verbal abuse. Making demeaning comments, humiliating, shaming, name-calling, criticizing, belittling, and/or degrading the partner.

Gaslighting. Insinuating that no abuse occurred, downplaying acts of violence, and/or blaming the victims.

Indirect abuse. Giving the partner a frightening look, screaming, hurting pets, and/or making violent gestures to make the partner feel threatened.

Financial abuse. Preventing a partner from getting a job, keeping full financial control, and refusing to assist monetarily or provide for domestic needs.

Instilling fear. Using threats to maintain control over a relationship. Threats of physical violence, suicide, abandonment, or blackmailing are just a few examples.

Using the kids. Threatening to take them away, and/or brainwashing them for manipulation.

Controlling behavior. Being too possessive and restrictive, getting jealous of everyone, and/or limiting a partner's time outside.
All of the foregoing techniques are used by abusers to achieve their goal which is to maintain power and control. Domestic violence survivors often learn more about their abusers' motivations after they have been in therapy. Ending and preventing abuse can be made easy by using resources such as the National Domestic Violence Hotline, which is always available 24/7, free, and keeps the information private.
Need Someone To Talk To?
BetterHelp connects you with licensed therapists online.
Think about the relief of sharing your burdens with a professional.
>> Start your journey with BetterHelp now and receive 20% off of your first month.
.

As a BetterHelp affiliate, we may receive compensation from BetterHelp if you purchase products or services through the links provided.
How To Find Domestic Violence Counseling Near Me
Domestic violence, also known as intimate partner violence, can make a victim feel helpless, confined, and terrified. Domestic violence counseling near me or online is helpful for both those who are still in abusive situations and those who have been able to escape the situation but are still in the process of healing and moving on. If you are looking for help or wondering where you might locate domestic violence counseling near you, then look no further because you've come to the right place. You do not have to be alone on this journey.
What to do if you don't want your husband to touch you anymore?
National Help
Domestic violence victims and survivors can seek help from resources such as the National Domestic Violence Hotline and Family Justice Centers, which offer counseling services and referrals. Once you call their hotline, you'll be connected with sympathetic experts who can assist you in finding services to help you improve or leave an abusive environment. Domestic violence hotlines can also assist you in handling issues related to family justice such as making police reports and filing restraining orders.
Ready to seek divorce counseling?
Domestic Violence Counseling Near Me
"Near me" is a relative term if you are looking for domestic violence counseling. The following are some of your possible options:
Locating a therapy clinic in your area or other neighboring towns.

Contact the National Domestic Violence Hotline by calling them at 1-800-799-SAFE (7233) or chatting with them online.

Reaching out to a local women's shelter crisis counseling center.

Contacting local support groups.
People who are trying to leave or heal from abusive relationships are sometimes offered therapy for free or at a reduced rate by counseling centers and domestic violence shelters across the country.
Unfortunately, as previously stated, perpetrators of domestic violence often block and isolate their victims making it almost impossible for them to leave their houses and ask for help.
Online Domestic Violence Counseling
As reported by the National Institute of Health, domestic violence affects one out of every four women and one out of every eight men between the ages of 18 and 59. If you or someone you care about has fallen victim to domestic violence, keep in mind that there are people who can help you. More people are turning to online mental health support programs like BetterHelp, especially since the COVID-19 pandemic has increased tension in domestic settings. If you believe that therapy with a mental health professional could help you feel stronger and better, you can get started right away. I have referred many relatives and friends to BetterHelp and have witnessed great outcomes.
Feeling stuck and unsure of how to move forward?
 BetterHelp's online therapists can offer you the guidance you need.
Picture a life where you have a trained advisor helping you through life's toughest challenges.
Begin Your Healing Journey with BetterHelp Now and Receive 20% Off of Your First Month.
.

As a BetterHelp affiliate, we may receive compensation from BetterHelp if you purchase products or services through the links provided.
Because online counseling is flexible and confidential, you can arrange your sessions whenever you are available to talk in a private and silent place, without needing to travel or to tell your partner. You can have the option of talking with your therapist through video chats, text messages, or phone calls.
A helpful relationship with an online therapist through BetterHelp could give you the guidance and support you need to create positive changes in your life, especially if you are in a dangerous or unsustainable living situation. You deserve to feel secure and heard, and talking to a therapist, whether over the phone or via online counseling, can surely help. Please don't wait any longer to seek help.