Last updated on July 19th, 2022 at 11:35 am
As a
BetterHelp
affiliate, we may receive compensation from BetterHelp if you purchase products or services through the links provided. theMentalDesk.com may be compensated for referrals by the companies mentioned below. As an Amazon Associate we earn from qualifying purchases.
If you have been wondering how to overcome swallowing anxiety, you may very well have a fear of swallowing known as Phagophobia, which is a rare type of phobia. Some people confuse this fear with the fear of choking, which is a different phobia called pseudodysphagia. The biggest difference is that people with phagophobia are fearful of the act of swallowing, while people who have pseudodysphagia are fearful that swallowing will cause them to choke.
Sometimes these fears are mistaken for medical conditions such as odynophagia or dysphagia, but those are both physiological disorders that cause painful or difficult swallowing.
Signs & Symptoms Of Phagophobia
From my experience, those with Phagophobia can have any number of different symptoms, among the most noticeable are avoidance or extreme reluctance of swallowing pills, foods, or liquids.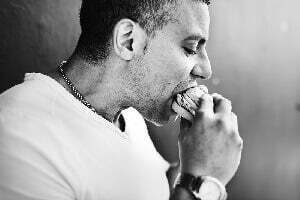 This is why Phagophobia can be extremely dangerous if it goes untreated. Someone with swallowing anxiety may stop drinking and eating for days or weeks at a time, causing them malnutrition, extreme weight loss, and dehydration.
Other signs and symptoms of phagophobia may include the following:
Unexplained panic attacks

Anxiety before eating

Rapid breathing and heart rate

Sudden weight loss

Extreme fear and anxiety when thinking about swallowing

Sweating when thinking about swallowing

Drinking frequently during meals and consuming very small mouthfuls of food to help in swallowing

Avoidance or reluctance of drinking or eating in the presence of others

Changing to an all-liquid diet in hopes of alleviating the anxiety caused by swallowing food
Need Someone To Talk To?
BetterHelp connects you with licensed therapists online.
Think about the relief of sharing your burdens with a professional.
>> Start your journey with BetterHelp now and receive 20% off of your first month.
.

As a BetterHelp affiliate, we may receive compensation from BetterHelp if you purchase products or services through the links provided.
Causes Of Phagophobia
I have seen cases of Phagophobia be triggered by emotional trauma, or spontaneously develop out of nowhere. It can arise from a complex set of factors such as past traumatic events or other underlying health issues. We can also "learn" phobias by watching others.
Fear Of Certain Foods
Some people have a fear of certain types of foods and this can trigger phagophobia. For example, some people have a persistent fear of eating contaminated food. This may lead to phagophobia.
Many times, Phagophobia is triggered by a negative or traumatic experience while drinking or eating. As an example, one of my friends had a previous experience with choking that led to his phagophobia. Being hit in the throat may also lead to future phagophobia.
Tension, Stress, Or Anxiety
Phagophobia is unique in that it can actually bring about the feared condition. Tension, stress, and anxiety can each cause the muscles in the throat to constrict, giving some that feeling of "a lump in their throat." When they become too stressed or anxious, people with swallowing anxiety will be physically unable to swallow. This makes the fear worse, creating a cycle that is difficult to break without professional help.
Phagophobia Diagnosis
If you are wondering how to overcome swallowing anxiety and think that you may have phagophobia, it is best to speak with your doctor or a qualified online therapist. They will ask if you have experienced symptoms for at least six months and if they are bad enough to have caused disruptions in your life, career, or relationships.
Your medical professional will also rule out other medical conditions that sometimes lead to swallowing anxiety and problems. They will also attempt to help you determine the root cause of your fear of swallowing.
How To Overcome Swallowing Anxiety (Phagophobia Treatment)
If left untreated, phagophobia can cause restricted eating habits which can further lead to significant health issues. Fortunately, phagophobia does respond well to treatment, and there are several options for this condition.
If your condition is not severe, you can try the following five things to overcome your swallowing anxiety:
Eat slowly

Slow breathing techniques

Minimize stress

Meditation

Rule out other causes by consulting with your primary doctor or an Ears, Nose, & Throat specialist.
If your swallowing anxiety is severe, then you should consider the following options:
Cognitive Behavioral Therapy (CBT)
CBT helps people to recognize their negative thought patterns thus allowing them to challenge them and work on adopting different behaviors. Cognitive Behavioral Therapy also helps you to learn ways to overcome stress and anxiety. CBT has helped many patients overcome swallowing anxiety.
Exposure Therapy
With the support and supervision of a therapist, exposure therapy works by gradually exposing oneself to their fear. Over time, you work your way up to swallowing drinks and foods.
Eye Movement Desensitization And Reprocessing (EMDR)
EMDR implements repetitive hand tapping or eye movements as a means of sensory stimuli that help to reduce the stress and anxiety that you have while swallowing.
Hypnotherapy
Some find relief with hypnotherapy, which is when your therapist guides you into a trance-like state, which enables you to focus very deeply on the root cause of your fear.
Medication
Certain medications, such as beta-blockers and antidepressants, may help reduce your fears and anxiety levels while swallowing.
Conclusion
If you are looking for how to overcome swallowing anxiety, the first step that I recommend is to find a therapist or counselor on BetterHelp who will work directly with you to come up with a treatment plan that targets your phagophobia. As you develop a relationship with an online mental health professional, they will learn more about you and be best able to design a phagophobia treatment plan to meet your specific needs.
Feeling stuck and unsure of how to move forward?
 BetterHelp's online therapists can offer you the guidance you need.
Picture a life where you have a trained advisor helping you through life's toughest challenges.
Begin Your Healing Journey with BetterHelp Now and Receive 20% Off of Your First Month.
.

As a BetterHelp affiliate, we may receive compensation from BetterHelp if you purchase products or services through the links provided.