Last updated on July 19th, 2022 at 11:10 am
As a
BetterHelp
affiliate, we may receive compensation from BetterHelp if you purchase products or services through the links provided.
Logotherapy is a new therapeutic approach that takes into account the relationship between thoughts, feelings, and behavior. The goal of logotherapy is to help people learn how to manage their thoughts in a way that improves their mental health and well-being. Because it is relatively new, it can be difficult to find a therapist who practices it. A simple search of "logotherapy near me" may not provide the answers you are looking for. We hope that this article will help you find a logotherapist near you or online.
What Is Logotherapy?
Logotherapy is a type of psychotherapy that emphasizes meaning and purpose in life. It was developed by Viktor Frankl, who survived Auschwitz concentration camp. Logotherapy is literally translated as "therapy through meaning". According to Frankl, people are driven by a "will to meaning," or the urge to find and create significance in their lives.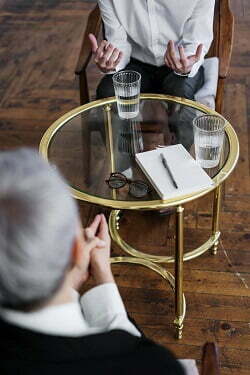 Logotherapy is founded on three basic tenets:
Life has meaning under all circumstances, even the most miserable ones.
Our main motivation for living is our will to find meaning in life.
We have the freedom to find meaning in what we do, and what we experience, or at least in the stance we take when faced with a situation of unchangeable suffering
Thus, Logotherapy helps people find meaning in their lives, even in the face of suffering. It can be used to treat a variety of mental health conditions, including depression and anxiety. Today, logotherapy is still used for many different mental health issues, such as depression, guilt, addiction, anxiety, bereavement, and sadness. In fact, worldwide, the number of institutions offering education and training in logotherapy has been rising since the 1990s.
Find Logotherapy Near Me or Online
If you are looking for a therapist who practices logotherapy, there are a few ways that you can go about finding one. One way is to look for a therapist who is affiliated with the Association for Logotherapy and Existential Analysis (ALEA). You can contact the ALEA office and they will be able to provide you with a list of therapists who practice logotherapy in your area.
However, perhaps the best way is to find a Logotherapist online. I would recommend starting by searching on BetterHelp, as they have therapists in nearly every specialty. If I were looking for a Logotherapist near me or online, that it where I would begin my search.
As a BetterHelp affiliate, we may receive compensation from BetterHelp if you purchase products or services through the links provided.
Logotherapy Costs
Logotherapy, a form of psychotherapy, can be a relatively low-cost treatment option. While the cost of therapy can vary depending on the therapist's experience and location, logotherapy is typically less expensive than other forms of therapy. This may be due in part to the fact that logotherapy does not require as much time with a therapist as some other therapies do. Additionally, you may find that your insurance plan covers at least part of the cost of logotherapy sessions. That being said, a typical logotherapy session can range from $70-$200, based on my research.
A much cheaper, and more efficient way to get help is to do logotherapy online. Based on your location, preferences, and the availability of therapists, therapy through BetterHelp can cost anywhere between $60 and $90 each week (paid every four weeks). Additionally, anytime, for any reason, you can end your subscription.
Get The Help You Need From A Licensed Therapist
Online therapy is convenient, affordable, and effective.
>> Start using BetterHelp now and receive 15% off of your first month.

As a BetterHelp affiliate, we may receive compensation from BetterHelp if you purchase products or services through the links provided.
Benefits Of Logotherapy
Logotherapy is a type of psychotherapy that is based on the belief that our purpose in life is to find meaning and fulfillment. The therapist helps the client to find meaning in their life, even if their situation is difficult or traumatic. The benefits of logotherapy include relief from depression, anxiety, and stress; a greater sense of purpose and fulfillment; and a stronger sense of self-worth. Logotherapy can also help people to connect with others and feel more connected to the world around them.
Logotherapist Near Me: What To Expect
Your first logotherapy session will be similar to other forms of therapy. In a session with a logotherapy therapist, you can expect to discuss your goals for therapy and how you hope to achieve them. The logotherapist will help you to identify your values and strengths and will work with you to develop a plan of action that will help you to live a meaningful life.
Conclusion
In conclusion, logotherapy is a form of therapy that can be beneficial for individuals who are struggling with various mental health issues. While it can be beneficial in the short term, it is important for individuals to learn about logotherapy and how it works so that they can make sure to take advantage of the therapy in a way that will benefit them the most.
If you are interested in learning more about this type of therapy or finding a logotherapist near me who practices logotherapy, please visit BetterHelp.com now.