Last updated on March 5th, 2023 at 12:49 am
As a
BetterHelp
affiliate, we may receive compensation from BetterHelp if you purchase products or services through the links provided. theMentalDesk.com may be compensated for referrals by the companies mentioned below.
It might be challenging to make the decision to seek support. However, the actual process of going to counseling and getting the help you deserve should be simple… Right? That's regrettably not always the case. Finding the therapy approach that is most effective for you typically involves a lot of trial and error, which can lead to frustration. In recent years, you may have visited different therapists' offices in pursuit of the best match. Or perhaps you, like many others, were looking for a new counselor at the start of 2020 when COVID-19 abruptly turned everything upside down. Since face-to-face counseling was no longer an option for the foreseeable future, many people started seeking alternative therapy options. Online therapy, most notably BetterHelp, has been filling that void. BetterHelp provides mental health services via online therapists and is the largest online counseling platform. But you may be wondering, is BetterHelp legit? I can confidently say that, yes, BetterHelp is legit. Now I will explain why and include some BetterHelp Reviews and discuss the costs, pricing, and FAQs.
Meet

Because you've suffered long enough.
Convenient, professional, affordable online counseling starts at just $60 per week.
Save
15%
on your first month
exclusively for The Mental Desk readers

What Is BetterHelp?
BetterHelp is an online counseling platform that enables individuals to get therapy from the convenience of their own homes. Accredited marriage and family therapists, psychologists, licensed professional counselors, and clinical social workers make up their therapist pool.
You have a few options for getting therapy once you've been paired with a counselor. The first method is through customary scheduled phone, video, or online chat sessions. Additionally, you will have access to a chat window with your counselor whenever you want. One other unique aspect is the texting system. It is unlike any other in-person therapy experience that you have likely had. You're able to update your counselor throughout the week and receive their responses in real-time.
BetterHelp Quick Facts:
Rated A by the Better Business Bureau
15% discount for new patients arriving from The Mental Desk — no discount code or coupon required (click HERE to apply discount at BetterHelp)
More than 1 million users
BetterHelp is the largest online therapy platform
Financial assistance offered
More than 20,000+ trained, accredited, and licensed counselors
Each therapist at BetterHelp holds a Master's or Doctoral degree
Free and simple counselor switching
There are many experts, including ones by race, age, gender, and religion for couples, teens, LGBTQ people, and Christians
A live video or phone session is included in each BetterHelp plan every week
Pricing for BetterHelp begins at $60 per week for unlimited messaging
Free online "groupinars" for 20 topics, which function similarly to group therapy
You decide how to communicate with your therapist: by text, video, phone, chat, or email
BetterHelp Pros and Cons
BetterHelp: Our Rating
BetterHelp Pros
Lower cost
Rapid access to a licensed therapist
Simple to switch therapists
Many different specialties to select from
BetterHelp Cons
Cheaper rates necessitate a greater commitment (but monthly billing still makes it affordable)
It may not be a good fit for severe addiction or mental disorder
Live sessions last just thirty minutes
BetterHelp: How Does It Work?
BetterHelp online therapy utilizes technology to enable honest communication between you and your counselor. You can text your counselor at any time of the day, or you can arrange a phone call, live chat, or video therapy session.
The signup process is simple and starts with a brief questionnaire you fill out on BetterHelp's website to help understand better why you're looking for therapy and what kind of therapist, timetable, and other preferences you have.
It usually takes about 24 hours to find a therapist to work with.
Getting Started
Here is how you can start using BetterHelp to get the help you need.
Take the quiz. Give some details about who you are by answering some questions, and why you choose to seek therapy. Covered in the quiz is fundamental information on age, religion, relationship status, gender, and sexual orientation, as well as your physical and mental health and certain traits you would want in a therapist.

At the end of the quiz is the option to pick a plan and insert your payment details. Make sure that you don't skip this part, as you won't be able to start therapy until you complete it.
Get matched with a therapist. BetterHelp finds a therapist for you based on the data you provided on the quiz. You may also search their database for a therapist you believe will match your needs. As a starting point for your interaction, your designated therapist will also have access to your quiz replies.
Start therapy. Once a counselor and client have been matched, you may immediately begin communicating and schedule your first live session!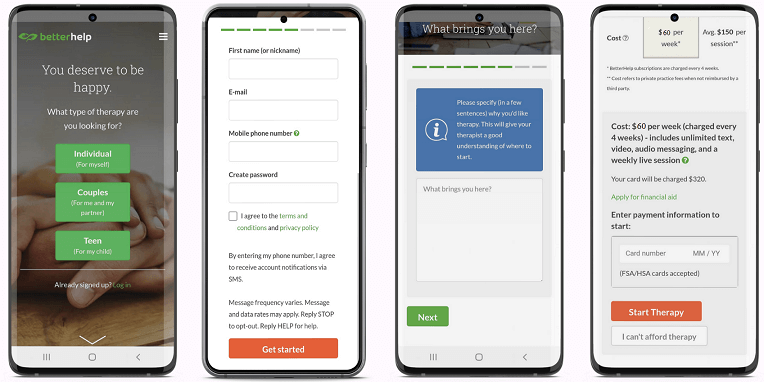 Working With Your Therapist
Once your therapist and you have been matched, things will probably move swiftly. You and your therapist may be in the same time zone, but possibly not. Together, you will need to choose a timetable that works for both of you. Most therapists should be sensitive to your needs. The therapists on BetterHelp are likely to impress most people with their commitment to ensuring that your experience is positive.
Your therapist could offer you a worksheet before your first appointment to help you decide what you want to get out of your sessions. This will assist you in selecting the main goals that you can strive toward during the course of therapy. Setting these goals will not only help your counselor understand what kind of assistance you require, but it will also make you more conscious of your own needs. Keeping these goals in the back of your mind will make it easier for you to strive toward them throughout every aspect of your daily life, not just during sessions.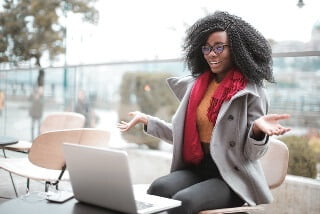 Your therapist may send you messages all during the week with articles, videos, and journaling prompts in addition to your weekly video calls. A diary portal is available on the BetterHelp website, and you can choose whether to share your notes with your counselor or keep them to yourself. You and your therapist's regular communication will help to keep you motivated to work on your mental health throughout the week.
BetterHelp Reviews
There are thousands of BetterHelp Reviews on the BetterHelp website. Here are just a few recent ones:
BetterHelp review from a real client dealing with depression, stress, anxiety, and other issues.
BetterHelp review from a real user seeking help for stress, anxiety, addictions, and other related issues.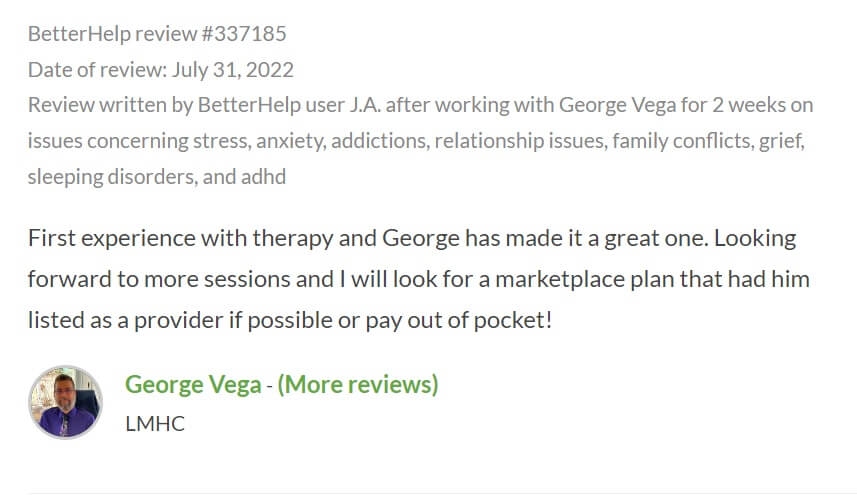 BetterHelp review from a real patient suffering from anxiety, trauma and abuse, parenting issues, anger management, and more.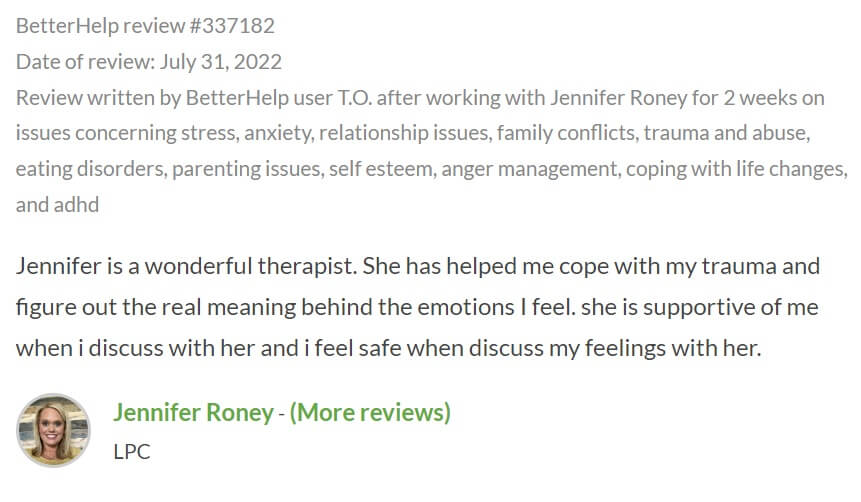 BetterHelp review from a real person seeking help for relationship issues, intimacy-related issues, self-esteem concerns, and more.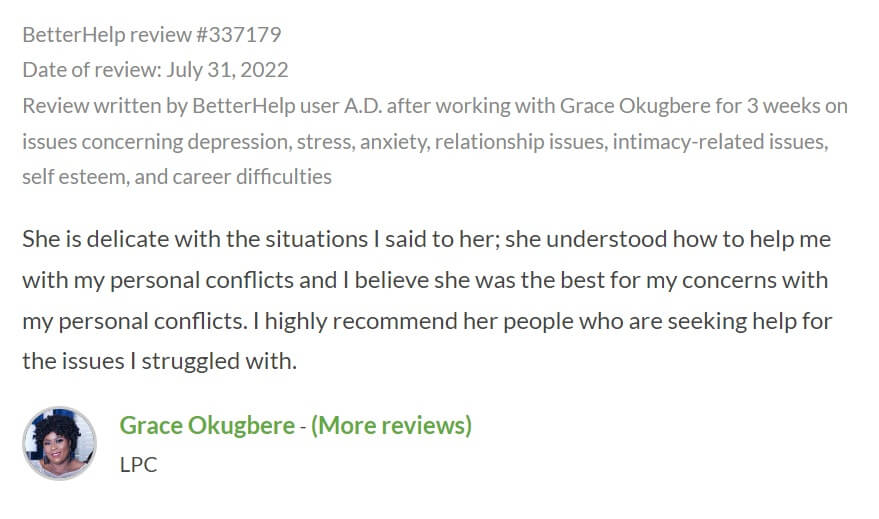 BetterHelp Reivews On BBB
BetterHelp has been accredited by the Better Business Bureau since 2015. Based on over 400 customer reviews, the BBB has given BetterHelp an A rating.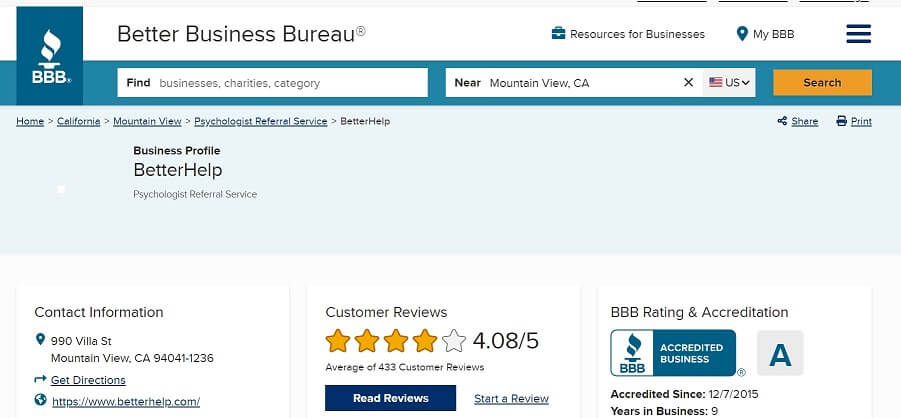 BetterHelp Reviews on Trustpilot
On Trustpilot, where it has had a profile since 2015, BetterHelp has a 4.6-star rating based on over 4000 reviews.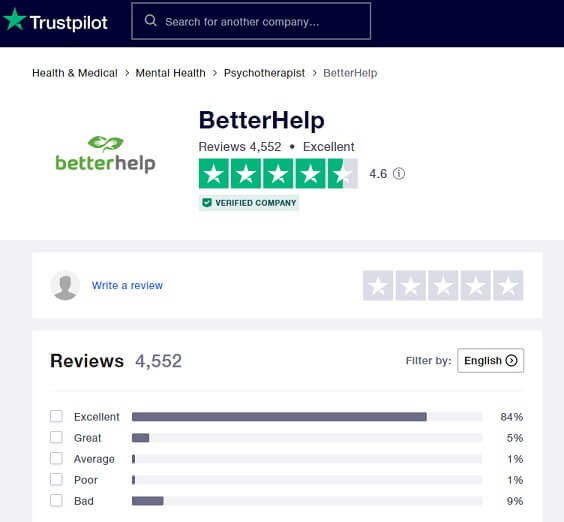 BetterHelp Pricing
BetterHelp's online counseling services begin at $60 per week. For the first month, there is an additional 15% discount for new clients.
All BetterHelp fees include unlimited messaging as well as weekly live sessions (other online therapy platforms charge extra for live counseling).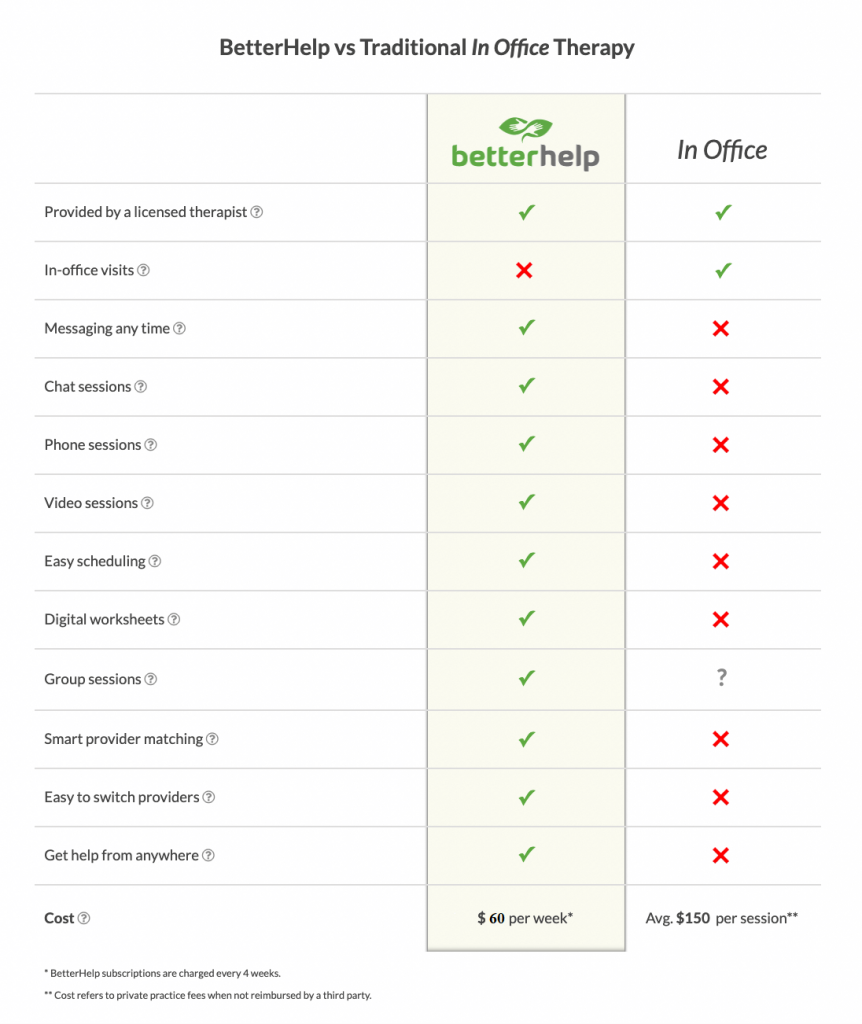 How Much Does BetterHelp Cost Per Month?
BetterHelp therapy costs as little as $204 per month, with the 15% discount, which includes weekly live therapy sessions as well as unrestricted messaging with your counselor in between sessions.
Traditional, face-to-face counseling might cost anything from $60 to $200 per hour, or more.
BetterHelp offers financial aid if you are unable to pay. You may be eligible for a reduction on the regular price by providing some information about your employment situation, income, and the number of dependents you have.
BetterHelp Financial Aid
Financial aid is available through BetterHelp to individuals who require assistance. The procedure is not too difficult. BetterHelp is aware that many people, particularly during times of a worldwide crisis, are struggling financially either as a result of their poor mental health or their ineligibility for employment. Despite the cause, the top mental health provider provides financial aid if necessary.
How Does Financial Aid Work For BetterHelp?
An introductory quiz about your health and counselor preference will be offered to you when you log in to BetterHelp. Your basic information, including your job status, is gathered through the questionnaire (to better gauge your financial situation).
The survey will also inquire as to whether you are presently experiencing a financial difficulty. You will be sent to the payment portion of the questionnaire after completing it and asked to enter your financial details. You may view your therapy charge on this page (if you qualify for BetterHelp financial aid, the reduced fee will be automatically applied).
BetterHelp FAQs
Here are some of the most frequently asked questions about BetterHelp.
Are BetterHelp therapists licensed?
The specialists working with BetterHelp are therapists with appropriate training and credentials who have been approved to practice therapy and counseling by the state's board.
Are Betterelp groupinars free?
Groupinars are online therapy groups facilitated by licensed specialists. They are included with your plan at no additional charge.
Who is BetterHelp online therapy for?
BetterHelp is best for anybody looking for affordable online therapy services. This can include teen counseling, family counseling, those looking for cognitive behavioral therapy, and more.
Are BetterHelp sessions recorded?
The only record of your interactions with your counselor is the written text messages since those are in writing. However, be assured that neither the video nor the phone calls are ever recorded or shared with anyone else.
How long are BetterHelp sessions?
Sessions with BetterHelp last 30 minutes. However, you are allowed to ask for up to an hour, and some therapists may accommodate your request.
Can BetterHelp prescribe medication?
BetterHelp does not prescribe medicine, which is normally done by a medical doctor or psychiatrist. This is true for the majority of online therapy companies and therapists who are not medical physicians.
Do I have to use my real name on BetterHelp?
BetterHelp emphasizes that even though you must use your personal information to pay for services, your therapist will not be able to see it. You can talk to your therapist by giving yourself a nickname.
How to get BetterHelp cheaper?
BetterHelp doesn't offer any discount or promo codes. However, you can get 15% off of your first month by clicking here.
Can BetterHelp diagnose ADHD and other conditions?
Bipolar disorder, narcissistic and borderline personality disorders, trauma disorders, anxiety, depression, and many other problems can all be diagnosed by BetterHelp therapists.
The 20,000+ therapists working via BetterHelp are all certified and licensed by their state board, meaning they must pass the same stringent examinations as other mental health professionals.
Does BetterHelp take insurance?
Even though BetterHelp itself does not take insurance, some insurance policies will pay for online therapy treatment.
Paying out-of-pocket for online therapy is likely less expensive than paying co-pays for conventional therapy through an insurer, even if you have health insurance.
How to cancel BetterHelp?
Your BetterHelp subscription can be canceled at any time.
BetterHelp is not an exception to the rule that credible therapists never promise specific outcomes.
Per the BetterHelp website:
We will evaluate your issue on a case-by-case basis and, at our discretion, take steps to resolve any issue, including but not limited to helping you find a new Counselor, extending your subscription at no cost to you, and issuing partial or full refunds when applicable.
BetterHelp website
Is there a BetterHelp free trial?
BetterHelp does not provide a free trial but does provide financial aid and a 15% discount for new clients.
BetterHelp's ability to swiftly and simply change therapists is one of the features I appreciate most. If your current therapist is not a good fit, switching to a new one is simple and cost-free.
Get Further Help & Support With Your Concerns
Online therapy is convenient, affordable, and effective.
>> Get started with BetterHelp now and receive 15% off of your first month.
.

As a BetterHelp affiliate, we may receive compensation from BetterHelp if you purchase products or services through the links provided.