Last updated on March 30th, 2023 at 05:40 am
As a
BetterHelp
affiliate, we may receive compensation from BetterHelp if you purchase products or services through the links provided. theMentalDesk.com may be compensated for referrals by the companies mentioned below. As an Amazon Associate we earn from qualifying purchases.
Today's article is in response to an email that a reader sent to us recently. It reads: "I feel like my therapist is frustrated with me. She appeared to be getting fairly angry with me because, despite seeing her for several months, I still wasn't able to talk to her about some things. She was really kind to me and didn't say anything, but I could tell from the way her face looked. Now I feel pressure to open up because I don't feel ready to challenge myself. This has created a barrier in my healing process that is making me very uneasy. Furthermore, I feel like I'm wasting time and money and getting nowhere as a result of this. I'm really incredibly anxious to go to my next session right now."
Therapy can be a very beneficial process for many people, but for some, it can also be frustrating. In this article, we'll explore the main reasons why therapists might be frustrated with their clients and what people can do to make their experience more positive.
What if I can't find a therapist I like?
Causes of Therapist Frustration
With coerced, resistant, or unpleasant clients, therapy is significantly more challenging. These are often patients who have been pressured by the child welfare system, the legal system, and their partner or spouse to make changes in their lives even though they may not be ready to do so. Patients who won't pay their bills, irate parents going through a divorce, and Axis II patients are all issues that therapists deal with.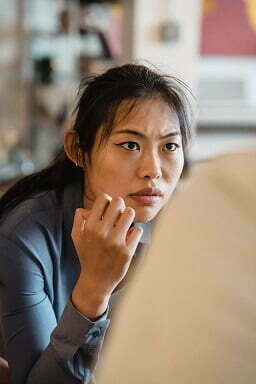 When a potentially difficult client comes to them, therapists may become apprehensive, perhaps even fearful, or delay confronting problems out of concern for the patient's response. And to top it off, while deciding how to interact with challenging clients, there are also clinical, legal, ethical, and risk-management considerations.
Here are a few of the most common causes of frustration for therapists:
Clients Who Don't Pay Their Bills
There are several reasons why patients don't pay their medical bills. Some people can't afford to pay them, while others simply don't bother to because they feel they shouldn't have to. Some clients believe that all therapists are wealthy. They believe that the rich do not require additional money. In light of this, there is no genuine cause for concern regarding the outstanding bills that therapists have at your practice. Forget about your student loan burden and the time it takes to establish a practice. Some clients believe you are wealthy and don't require their money.
Clients should think about how they would feel if they didn't get paid for their work. If you're not paying your bill, this could help explain why your therapist is frustrated with you.
Need Someone To Talk To?
BetterHelp connects you with licensed therapists online.
Think about the relief of sharing your burdens with a professional.
>> Start your journey with BetterHelp now and receive 20% off of your first month.
.

As a BetterHelp affiliate, we may receive compensation from BetterHelp if you purchase products or services through the links provided.
Clients Who Don't Follow Their Treatment Plan (Noncompliance)
Therapists often deal with patients who refuse to heed their perfectly sound clinical advice, which can be quite frustrating. Some patients adamantly reject their well-intended prescriptions or suggestions, whether it be for utilizing prescription medication, for follow-up appointments, for important clinical tests, or for adopting critical lifestyle improvements.
If you're not following your therapist's advice, it could be the cause of their frustration with you.
Read: What to do if your therapist doesn't like you
Clients Who Are Resistant To Change
Therapists frequently run into resistance in their work. Naturally, clients balance their fear of rejection with their willingness to confide in a complete stranger. Every person who has ever practiced therapy, such as psychotherapy, has encountered resistance. When working with a difficult client, you frequently feel as though you've spent the entire therapeutic hour bashing your head against a brick wall. Simply said, it may be extremely frustrating and stressful for your therapist if you are unwilling or not ready to change.
Clients Who Don't Follow Through With Their Therapy Goals
Setting goals is crucial for people who wish to enhance their lives. Setting goals enables you to hold yourself accountable for the accomplishment of your objectives.
Setting goals is especially important for everyone receiving counseling or therapy. If you're not working on following through with your therapy goals it could be causing frustration for your therapist.
Check out these 7 signs that your therapist doesn't like you.
Signs That My Therapist Is Frustrated With Me
When you're in therapy, it's important to be aware of your therapist's feelings so that you can work together to have a productive and beneficial relationship. If you're seeing a therapist who is frustrated with you, there are likely some signs that you can look out for.
If your therapist is constantly sighing or rolling their eyes, they may be communicating that they are not happy with the progress you're making. If they are constantly giving you homework or suggesting new goals, this may also be a sign that they are looking for more from you. If your therapist becomes argumentative or uninterested in what you have to say, this could be another sign that they are frustrated.
The best and most reliable indicator that a therapist is frustrated with you is when they express their frustration to you. Honesty and trust are the foundations of therapy. Nobody benefits when a therapist remains silent about issues that "frustrate" them; instead, it is their responsibility to bring them up with their clients. It's their ethical duty.
What Can I Do If My Therapist Is Frustrated With Me?
The best course of action for someone who suspects their therapist may be frustrated, disappointed, angry, annoyed, or anything else is to share their feelings, observations, and perceptions with them and ask whether they are accurate. The client's inquiry should be welcomed by the therapist, who shouldn't be irritated.
That being said, if you feel that the frustration is perhaps mutual, or that the therapist simply isn't a good fit for you, it may be time to find a new therapist. There is nothing wrong with changing therapists.
Read: What if my therapist doesn't believe me?
Conclusion
In conclusion, it is important to understand that therapists are people too. They may get frustrated with their patients from time to time, but it does not mean that they do not care for them. If you are a patient who is feeling frustrated with your therapist, it is important to talk to them about it. Let them know what is going on and see if there is anything that can be done to fix the situation. If all else fails, it may be time to find a new therapist.
If you do find yourself looking for a new therapist, I highly recommend starting your search with BetterHelp. Online therapy is super convenient, and being matched with a therapist on BetterHelp is simple.
Feeling stuck and unsure of how to move forward?
 BetterHelp's online therapists can offer you the guidance you need.
Picture a life where you have a trained advisor helping you through life's toughest challenges.
Begin Your Healing Journey with BetterHelp Now and Receive 20% Off of Your First Month.
.

As a BetterHelp affiliate, we may receive compensation from BetterHelp if you purchase products or services through the links provided.