Last updated on March 30th, 2023 at 05:12 am
As a
BetterHelp
affiliate, we may receive compensation from BetterHelp if you purchase products or services through the links provided. theMentalDesk.com may be compensated for referrals by the companies mentioned below. As an Amazon Associate we earn from qualifying purchases.
People avoid the topics they need to talk about the most for a variety of reasons. When people admit they are having an affair or yell at their kids, for example, they sometimes worry that the therapist will have an unfavorable opinion of them. They can also find the situation embarrassing (anything involving sex). They may also be in denial (Sure, I drink too much, but it doesn't really affect my life much). People may conceal information out of fear of being disbelieved. Additionally, people may withhold information in order to avoid not only the therapist but also themselves—to avoid facing their guilt, their anguish, or the truth they know they need to disclose. So then, how do you tell your therapist something hard or embarrassing? That's what we will help you with today.
Some people have anxiety about uncomfortable situations, and for some of those same people, therapy is uncomfortable. Ironically, therapy is the best place to work through those feelings. In fact, discussing some challenging subjects in treatment is not only vital, but it can also be the perfect opportunity to explain why the subject is so challenging for you. It's crucial to keep in mind that you might benefit most from therapy when you express your true feelings, even when those feelings pertain to the therapy itself.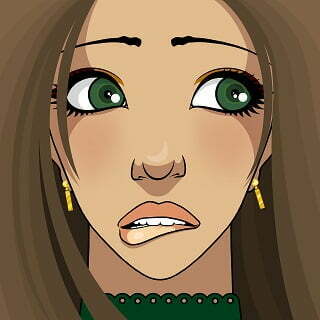 Tips For How To Tell Your Therapist Something Hard Or Embarrassing
Being open with your therapist will teach you how to be more open with others as well. The therapist's office is a safe place to understand and work through your issues. That is why it is important to feel comfortable with the therapist. That way, you can learn to trust and confide in your therapist.
Here are four tips for how to tell your therapist something hard or embarrassing:
1. Be Aware Of Your Anxiety
Be aware of the anxiety that you have from talking about something that may be hard or embarrassing to talk about with your therapist. While it's normal and OK to have these feelings, the sooner that you can open up about the issue, the sooner that you can begin to overcome it. Explaining your difficulty or embarrassment to your therapist is the first step.
You can begin by discussing your concerns with your therapist. Be honest with them. Tell them that you have been afraid to talk to them about something, but have found it hard to do so.
Recognizing that sharing is difficult for you might also be an important piece of information for you and your therapist to work on.
In doing so, you and your counselor create a space where you may talk about what is bothering you and preventing you from moving forward, which may be easier than simply talking about the problem.
Read: What to do if your therapist doesn't believe you
Need Someone To Talk To?
BetterHelp connects you with licensed therapists online.
Think about the relief of sharing your burdens with a professional.
>> Start your journey with BetterHelp now and receive 20% off of your first month.
.

As a BetterHelp affiliate, we may receive compensation from BetterHelp if you purchase products or services through the links provided.
2. Talk About It When You're Ready
You must realize that you are free to talk as much as you choose, that your therapist cannot pressure you, and that you have every right to consider an issue carefully before discussing it with your therapist.
After your first session, you can wait until you're ready to talk about the major issue before doing so.
Here are a few things to keep in mind if you wish to chat to them about something difficult:
If you and your therapist have a good rapport, don't worry about them passing judgment; being open with them will only help them get to know you better and enable them to assist you in helping you.
So that you and your therapist can effectively work on the difficulties together, be sure to discuss it during the appointment instead of on your way out the door or outside of the session.
Additionally, keep in mind that once anything is brought up, you will need to deal with it, including the awkward emotions that come along with it in addition to the actual matter.
3. Don't Fear Being Judged By Your Therapist
You must realize that your therapist has received training in this area and are happy to guide and support you.
Any ethical therapist will not let this information influence how they see you or how they work with you. So it's important to not be afraid of being judged or shocking them.
Talking about your anxieties with your therapist can be a fantastic place to start.
How can you tell if your therapist doesn't you?
4. Realize The Benefits of Being Direct
No matter what you might say, no matter how hard, unpleasant, ugly, or upsetting it may be, realize that your therapist may have worked with clients with similar issues in the past and won't be alarmed by it.
Rather, if they are to assist their clients in working on themselves, they value and prefer to have a candid revelation of what is challenging for them.
It is important to be direct and upfront with your therapist about your problems in order to promote your personal development and mental wellness.
You must be aware that if there is something that could put you or others in danger, they may need to violate their duty of confidentiality to keep you safe. This is necessary by law.
Read: Signs your therapist doesn't like you
Final Thoughts
Even if facing uncomfortable realities may be a cost of sharing them, the benefit is freedom. The opportunity for progress is provided by the truth, which frees us from the chains of our inner prisons. But the more you wait, the more serious the issue grows. That's why you'd be better off focusing on how you'd be spending more of your own time if you simply opened up and dealt with the issue, instead of worrying about whether you're wasting your therapist's time. Now that we've given you the knowledge of how to tell your therapist something hard or embarrassing, it's up to you to make the choice to do so.
If you feel like your current therapist isn't a good fit for you, that could be why you are afraid to tell them something hard. Don't be dissuaded to find a new therapist that you would be more comfortable with on BetterHelp.
Feeling stuck and unsure of how to move forward?
 BetterHelp's online therapists can offer you the guidance you need.
Picture a life where you have a trained advisor helping you through life's toughest challenges.
Begin Your Healing Journey with BetterHelp Now and Receive 20% Off of Your First Month.
.

As a BetterHelp affiliate, we may receive compensation from BetterHelp if you purchase products or services through the links provided.