Last updated on July 26th, 2023 at 06:39 pm
As a
BetterHelp
affiliate, we may receive compensation from BetterHelp if you purchase products or services through the links provided. theMentalDesk.com may be compensated for referrals by the companies mentioned below. As an Amazon Associate we earn from qualifying purchases.
The effects of COVID-19 on mental health can be severe when symptoms last for months. If you have long-term COVID or are concerned that you could develop it, the advice we offer here can help you manage your mental health.
Living With Long COVID
The majority of COVID-19 patients have moderate illnesses, and recovery usually takes a week or two. Others, though, may experience symptoms that last for months and change over that time. No matter how severe the early symptoms, long COVID is expected to afflict one in ten people who test positive.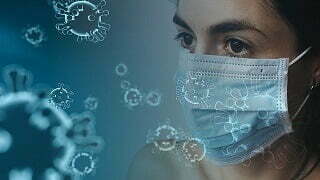 Long COVID has been linked to an increase in mental health issues, as is the case with many chronic conditions.
You might be experiencing psychological symptoms for the first time as a result of these difficulties, or perhaps your current mental health issues are getting worse.
Living with long-term COVID can be a challenge. There is no one-size-fits-all approach to managing this new condition, and people will experience different symptoms and challenges at different points in their recovery. However, there are several things that everyone with long COVID should do to improve their quality of life.
Long COVID Fatigue
Long COVID has been associated with a number of symptoms, but research indicates that one of the most prevalent and incapacitating of them is fatigue.
A recent study found that long-term COVID use can lead to fatigue and a decreased ability to perform tasks. The study showed that over time, the users experienced a decrease in their performance on cognitive tests, as well as decreased physical activity levels.
Even though it's often considered a major symptom, fatigue has a wide range of secondary symptoms.
These could include:
anxiety
depression
muscle weakness
sleep problems
relationship problems
financial struggles
social withdrawal
decreased work performance
All of these factors can make fatigue worse, which can have a compounding negative effect on one's quality of life and mental health.
Need Someone To Talk To?
BetterHelp connects you with licensed therapists online.
Think about the relief of sharing your burdens with a professional.
>> Start your journey with BetterHelp now and receive 20% off of your first month.
.

As a BetterHelp affiliate, we may receive compensation from BetterHelp if you purchase products or services through the links provided.
Long COVID Mental Health Support
I have seen firsthand that coping with long COVID can be difficult. There are a variety of ways to manage symptoms and make the best possible lifestyle choices. Patients should work with their health care providers to develop an individualized plan that takes into account their specific needs.
Find A GP You Trust
If individuals close to you don't take your symptoms seriously, you might experience frustration or even anxiety.
Even if your options for treatment are limited, just feeling heard and believed by a doctor may help. In my own life, I have found that a trusted GP is invaluable to one's physical and mental health.
Get Treatment For Fatigue
Even if fatigue isn't the only sign of long COVID, it's crucial to get assistance if you're struggling with it.
Fatigue is one of the most common complaints among patients with long COVID. It is a sign that your body is struggling with the workload of your past COVID-19 infection. There are many ways to treat fatigue, depending on the severity.
Some common treatments for fatigue include rest, exercise, and medication. Some people take restorative sleep medications to help them get a good night's sleep. Others use exercise to increase their energy levels. Some of my friends take supplements that are known to help boost energy levels, such as caffeine or guarana. You should talk to your doctor about which treatment is best for you.
Find Support From Others With Long COVID
I have found that participating in online forums or support groups that bring together people with comparable symptoms may make you feel less alone. Many people are going through the same thing you are and want to know what to do about it. Long COVID has a Facebook group called COVID-19 Long Haulers Support, which has over 88,000 members. If you have questions or concerns about your symptoms, this is a good place to ask them.
Take Advantage of Online Mental Health Support Services
To speak with someone about your feelings, get in touch with BetterHelp. 24/7 phone or online chats with counselors are possible. During peak COVID times, many of my friends sought the help of therapists from BetterHelp. I cannot recommend them enough.
Within 24 to 48 hours, video and telephone sessions are available if you'd like to speak with a qualified, licensed psychologist. Even better, you can get 20% off of your first month.
Feeling stuck and unsure of how to move forward?
 BetterHelp's online therapists can offer you the guidance you need.
Picture a life where you have a trained advisor helping you through life's toughest challenges.
Begin Your Healing Journey with BetterHelp Now and Receive 20% Off of Your First Month.
.

As a BetterHelp affiliate, we may receive compensation from BetterHelp if you purchase products or services through the links provided.
Anxiety About Getting Long COVID
There is no one-size-fits-all answer to reducing anxiety about getting long COVID, as everyone's experiences and coping mechanisms will be different. However, one of the simplest things you can do is speak to an online therapist on BetterHelp. Talking about your anxiety with a friend or therapist can help you feel more comfortable discussing the problem and work on strategies to manage it. If you feel like the problem is too big for you to deal with on your own, a therapist can help teach you coping skills. Don't be worried or ashamed about seeking help from a qualified counselor today.
Final Thoughts: Long COVID and Mental Health
In conclusion, the long-term effects of COVID on mental health are still unknown. However, what is known is that COVID is a significant stressor that can have a negative impact on mental health. People who are already struggling with mental health issues are especially at risk. It is important to be aware of the signs and symptoms of mental health issues and to seek help if needed. There are many resources available, both online and offline. Please don't hesitate to reach out for help if you need it.