Last updated on June 23rd, 2023 at 05:46 pm
As a
BetterHelp
affiliate, we may receive compensation from BetterHelp if you purchase products or services through the links provided. theMentalDesk.com may be compensated for referrals by the companies mentioned below. As an Amazon Associate we earn from qualifying purchases.
In recent years, I have had more and more students come to me telling me, "School makes me depressed." Student depression is becoming a national crisis.
Watch any movie or TV show, and the stereotypical representation of a teenager will likely be moody, angry, and argumentative. While teenagers can exhibit some of these characteristics, studies show that what they're going through can be attributed to much more than "teen angst."
Up to 20% of teens suffer from depression, while anxiety can be found in 32% of young people.
School accounts for approximately 25% of a teenager's day (depending on where they go to school) and requires arduous hours of concentration and continuous social interactions. Going to school isn't optional, which can be stressful itself, but attending an educational institution while suffering from depression or anxiety (or both) is immensely challenging.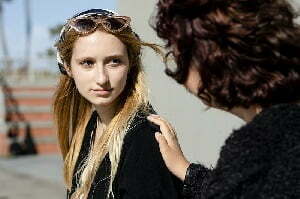 Why School Makes Me Depressed?
While school is often a wonderful place for learning and growth, it can also be a source of immense stress for young minds.
Many students feel the pressure of meeting expectations and handing in assignments on time; it can be challenging to cope mentally with goals set for you by others.
Though a school's primary function is academic learning, it's also where many teenagers develop their social skills. Keeping up with current trends, 'fitting in,' and working out who you are, are all mentally taxing day-to-day interactions and can negatively impact the mental well-being of young people.
There are so many factors that children continuously deal with on a daily basis that it's easy to feel overwhelmed. Feelings of depression and anxiety are widespread among teenagers and are nothing to be ashamed of. It is normal to feel stressed or sad and to tell somebody, "School makes me depressed."
Can Inside Out and Zones of Regulation Help you?
Why Does School Make Me Sad? 10 Common Reasons
Although school is meant to be a place of learning and development, it can also be a source of stress, anxiety, and depression for many children. Understanding these causes is the first step in battling student sadness and depression. There are a number of reasons why school might be making you sad.
Academic Pressure: Students may experience stress and anxiety due to the continual pressure to achieve academically. Students' mental health may suffer as a result of the pressure to perform well academically and the fear of failure.
Bullying: Bullying may proliferate in schools, which can result in isolation, anxiety, and depression. Kids who are bullied may feel powerless and alone, leading to a sense of hopelessness and despair.
Social pressures: Students are frequently evaluated at school based on their looks, popularity, and social standing. Students who feel alone or unwelcome by their peers may experience depression and anxiety.
Lack of Support: It's possible that students who are having mental health problems won't have access to the assistance they require. Feelings of helplessness and loneliness may result from this.
Workload: With a never-ending stream of homework, essays, and tests, school may be very demanding. For some students, the workload is excessive, which might result in fatigue and burnout. You might be too depressed to do schoolwork.
Pressure to Fit In: Even if it means compromising their own principles and ideas, students may feel pressure to fit in with their classmates. As a result, one may experience anxiety, despair, and low self-esteem.
Lack of sleep: It's possible that students aren't getting enough sleep, which can make them tired, irritable, and depressed.
Lack of Control: When attending school, some students may feel as though they have no control over their lives. They could have emotions of powerlessness and melancholy as a result of feeling as though they are being instructed on what to do and how to act.
Unsupportive Environment: Kids who don't feel that their parents or instructors are on their side may experience emotions of neglect and low self-worth.
Future Fear: Students could experience future anxiety due to pressure to perform in a competitive employment market. Feelings of hopelessness and depression might result from this worry.
Need Someone To Talk To?
BetterHelp connects you with licensed therapists online.
Think about the relief of sharing your burdens with a professional.
>> Start your journey with BetterHelp now and receive 20% off of your first month.
.

As a BetterHelp affiliate, we may receive compensation from BetterHelp if you purchase products or services through the links provided.
Signs of Student Depression
It's essential to keep a mental check on yourself so you can seek help if you need to. Listed below are some indicators of student depression to watch out for.
Anger & Irritability
Feeling angry or irritable can cause you to lash out at teachers or fellow students. It can be difficult to deal with school situations at the best of times, but having a short temper thanks to depression and anxiety can compound the problem.
Find the best help for depression near you.
Low Self-Esteem
School, by its very nature, is performance-based and a place where you're continuously assessed and evaluated. Being persistently self-critical of your academic, sporting, and social performance is an indicator of mental health issues.
Lack Of Motivation
It's easy to spiral when you're suffering from low motivation. The challenge of performing to the best of your ability when you aren't motivated can cause performance issues.
Disturbed Sleep Patterns
A lack of sleep is common in depression and anxiety sufferers of all ages. Reduced sleep can lead to impaired cognitive function and a lack of clarity and focus. Poor sleep can also contribute to anger and irritability and decreased motivation.
Perfectionism
When you're in a setting that scrutinizes every facet of your performance, it's easy to become fixated on being perfect. However, teens suffering from anxiety and depression can become too self-critical as they strive for perfection.
Drug Or Alcohol Abuse
Teenagers commonly experiment with alcohol and drugs. While it's not recommended, this in itself is not an indicator of mental health issues. However, if experimentation leads to dependence and abuse as an escape from your daily emotions, it could signify depression or anxiety.
Social Issues
Anxiety and depression can make social interactions exceedingly difficult. When you're suffering from these mental health issues, you'll be more likely to avoid social situations and isolate yourself through the worry of rejection and self-consciousness.
What To Do When School Makes Me Depressed?
If you have been thinking a lot lately, "school makes me depressed", then it's time to try to fix it. It's crucial to ask for help as soon as you can if you believe you're suffering from depression or anxiety (or similar mental health issues) so you can avoid spiraling. Tackling the problem early on is much easier than dealing with deep-seated issues.
Still, there are coping mechanisms you can perform on your own that can help you deal with everyday life at school.
Take a Break
While there are aspects of your school life that are compulsory, there may be classes, clubs, or teams that aren't essential to your education. Consider taking a few weeks off from these activities to quieten your mind and give yourself a break. Talk to your parents and teachers about the best way to proceed.
Identify Positive & Negative Influences
Take a sincere look at your social circles to identify those people who are truly a good influence on your life and mindset. Spend more time with people who have a positive impact on your school life and let go of those toxic and distracting people.
Participate Where Necessary
In stark contradiction to my first tip, you should show up and take part where necessary. Skipping out on your essential responsibilities may help you relax at the time, but avoiding them is a temporary measure that could cause stress and anxiety down the line.
Do Things You Enjoy
Blowing off steam or participating in activities you enjoy is an excellent way to unwind and quieten your mind. Though you initially may not feel like partaking in your favorite hobby, the release of endorphins you'll experience can help improve your mindset and overall mood.
Student Depression Resources
In this section, you'll find a collection of resources that I've personally handpicked to help students grappling with depression. These books and tools offer practical advice and strategies, providing a lifeline for those students seeking to manage their mental health during their academic journey.
CBT Toolbox for Children and Adolescents: This comprehensive workbook is a treasure trove of over 200 worksheets and exercises designed to empower young minds. It's a practical guide to help children and teens understand their thoughts and emotions and develop effective strategies for managing stress, anxiety, and other challenges. It's like having a personal therapist in book form, ready to help whenever needed. Get it on Amazon now.
Depression Workbook for Teens: This engaging workbook is a lifeline for teens grappling with depression. It offers a variety of therapeutic activities and exercises that foster self-esteem, motivation, and positivity. It's a roadmap to recovery, guiding teens toward understanding their feelings, setting goals, and cultivating a healthier mindset. It's a must-have tool for any teen seeking to reclaim their happiness. Get a copy today at Amazon.
The Teen Girl's Anxiety Survival Guide: This insightful guide is a ray of sunshine for teen girls facing anxiety. It offers ten powerful strategies to manage anxious thoughts and feelings, promoting a more positive outlook on life. It's a friendly companion that encourages mindfulness, self-compassion, and balance in the face of stress and social media pressures. It's a guide to finding inner peace amidst the chaos of teen life. Buy it now on Amazon.
Professional Help For When School Makes Me Depressed
Feelings of depression and anxiety can occur in people of any age, but suffering from mental health issues at a young age can impact your life for years to come if you don't seek help as soon as possible.
There's also the potential for these issues to develop into other unwanted scenarios such as substance abuse, social isolation, and self-harm. In these cases, you must contact your doctor immediately.
I highly recommend that you speak to a therapist near you or online when struggling with school stress. Online counseling can be tremendously beneficial. I have referred many students to seek help with BetterHelp and have received positive feedback once they have completed treatment.
If you're unable to speak to a doctor or therapist (or would like additional support), it would be beneficial to talk to a parent or close family member. School guidance counselors are trained specifically to help young people deal with the rigors of everyday school life.
If you are plagued with thoughts of harming yourself, you can call the National Suicide Hotline or the National Alliance for the Mentally Ill Hotline for immediate assistance.
Feeling stuck and unsure of how to move forward?
 BetterHelp's online therapists can offer you the guidance you need.
Picture a life where you have a trained advisor helping you through life's toughest challenges.
Begin Your Healing Journey with BetterHelp Now and Receive 20% Off of Your First Month.
.

As a BetterHelp affiliate, we may receive compensation from BetterHelp if you purchase products or services through the links provided.