Last updated on April 5th, 2023 at 08:04 am
As a
BetterHelp
affiliate, we may receive compensation from BetterHelp if you purchase products or services through the links provided. theMentalDesk.com may be compensated for referrals by the companies mentioned below. As an Amazon Associate we earn from qualifying purchases.
Psychosis is an impaired relationship with reality. It can be thought of as a "trick of the mind" that causes some people to have hallucinations or delusions. It is a serious mental health problem with many nuances. There are quite a few early warning signs of a psychotic break that we can recognize.
Psychosis is an episodic symptom, meaning that it is a symptom of a mental illness and that it comes and goes over time. The perceptions and thoughts that happen during a psychotic break can make the affected person lose touch with reality.
It may seem like psychosis comes on fast, but this usually is not the case. Typically, a person's perceptions and thoughts change gradually over time, which can be difficult to recognize at first.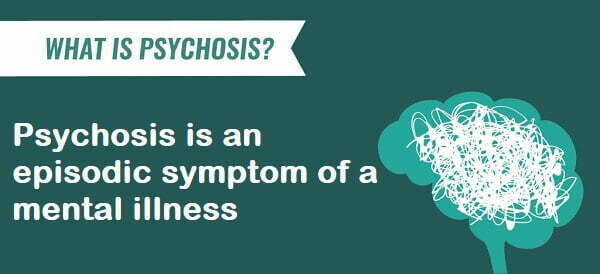 Early Warning Signs Of A Psychotic Break
Since the person who is on the verge of psychosis is unable to make sense of what's happening, it is crucial that friends and family members can recognize psychotic break symptoms.
Early warning signs of a psychotic break often include:
Unusual difficulties at work or school

Abnormal withdrawal from friends and family

Neglecting personal hygiene or self-care

Unmotivated and depressed mood

Increased time spent alone

Unable to think clearly or stay focused

Speaking nonsensically

Hallucinations

Delusions
Other psychotic break symptoms include difficulty expressing or controlling emotions, dealing with stress, and trouble sleeping. Some people with a psychotic disorder have no feelings at all, while others feel intense, inappropriate emotions.
Some of these signs of psychotic behavior may be temporarily induced by stress or signs of a completely different mental health issue. Yet others, known as attenuated psychotic symptoms, imply a higher risk of an oncoming psychotic episode.
Need Someone To Talk To?
BetterHelp connects you with licensed therapists online.
Think about the relief of sharing your burdens with a professional.
>> Start your journey with BetterHelp now and receive 20% off of your first month.
.

As a BetterHelp affiliate, we may receive compensation from BetterHelp if you purchase products or services through the links provided.
Signs Of Psychotic Disorder
Again, it's important to understand that psychosis itself is only a symptom of a larger psychotic disorder. A psychotic disorder can be any form of mental health condition that leads to psychosis.
Mental health disorders that can lead to psychosis include:
Schizophrenia

Illnesses that affect the brain – brain tumors, strokes, Alzheimer's disease, HIV, syphilis, Parkinson's disease, Huntington's disease
If you or someone you know has any of these disorders, you are at higher risk of developing psychosis. That's why it's important to speak with a mental health expert who specializes in psychotic disorders, even if you currently show no signs of psychosis.
You would be wrong to think that psychosis is rare, as it is actually very common. According to the National Institute Of Mental Health, 3% of people in the U.S. will experience a psychotic break at some point in life. Additionally, approximately 100,000 American teens have their first episode of psychosis every year.
Psychotic Break Diagnosis And Treatment
Based on research, most people who experience a psychotic event for the first time show signs of psychotic behavior for more than a year before they are officially diagnosed. However, prompt diagnosis and treatment almost always afford the best outcomes.
Having the knowledge to identify the early warning signs of psychosis is the first important step in minimizing the average duration of untreated psychosis. If the person has a family history of BPD, schizophrenia, or other psychotic disorder, early diagnosis is especially important.
A specially trained online therapist will take a multidisciplinary, evidence-based approach when diagnosing and treating adults and teens with psychoses. They will develop a coordinated care model tailored to the individual that includes everything from medication and psychotherapy to family support and education.
Feeling stuck and unsure of how to move forward?
 BetterHelp's online therapists can offer you the guidance you need.
Picture a life where you have a trained advisor helping you through life's toughest challenges.
Begin Your Healing Journey with BetterHelp Now and Receive 20% Off of Your First Month.
.

As a BetterHelp affiliate, we may receive compensation from BetterHelp if you purchase products or services through the links provided.