As a
BetterHelp
affiliate, we may receive compensation from BetterHelp if you purchase products or services through the links provided. theMentalDesk.com may be compensated for referrals by the companies mentioned below. As an Amazon Associate we earn from qualifying purchases.
In the complex world of blended families, the relationship between a step-parent and a stepchild can sometimes be fraught with tension and misunderstanding. This article will look at the challenging topic of "When a Step-parent Hates The Stepchild".
We'll explore the reasons behind such feelings, the impact they can have on all family members, and most importantly, what can be done to address these issues. Our aim is to provide insights and practical advice to help step-parents work through these difficult emotions and work towards building healthier, more positive relationships within their blended families.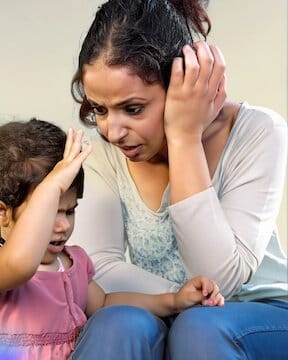 Impact When a Step-parent Hates The Stepchild
When a step-parent hates the stepchild, it can create a ripple effect that impacts everyone in the family. In this section, we will explore the profound impact this can have on the biological spouse, the stepchild, and the overall family unit.
Impact on Biological Spouses
In my experience, when a step-parent harbors dislike for a stepchild, the biological spouse often finds themselves in a precarious position. They are torn between their love for their partner and their innate protective instinct for their biological child. This internal conflict can lead to stress, anxiety, and feelings of guilt. The biological parent may feel compelled to defend their child, leading to arguments and tension within the relationship. They may also feel pressured to choose sides, which can further strain the relationship between their spouse and their child.
Impact on Step-child
I have seen first-hand that the impact on the stepchild can be profound and long-lasting. When a step-parent dislikes a stepchild, it can lead to feelings of rejection, low self-esteem, and insecurity in the child. They may feel unwelcome in their own home and may start to question their worth. This can affect their academic performance, social interactions, and overall mental health. The child may also develop resentment towards the step-parent and their biological parent, damaging the family dynamics. It's important to remember that children, regardless of their age, need love, acceptance, and a sense of belonging to thrive.
Impact on Family Unit
The dislike of a step-parent towards a stepchild can have a ripple effect on the entire family unit. It can create an environment of tension, conflict, and unhappiness. The family dynamics can become strained, leading to a breakdown in communication and mutual respect. Other children in the family, whether they are biological or stepchildren, can also be affected. They may feel uncomfortable or anxious due to the ongoing conflict, which can impact their emotional well-being.
Blended families come with their own unique challenges, but it's important to remember that every member of the family plays a different and important role. I have found that it's normal to have mixed feelings in a stepfamily situation. However, it's crucial to handle these feelings respectfully and constructively.
Remember, you're not alone in this. Many step-parents and stepchildren struggle to build positive relationships. It's okay to seek help and advice. Building a new relationship with a stepchild or a step-parent takes time, patience, and understanding. It's not about replacing the biological parent or forgetting the past, but about creating a new, different, and important relationship that needs nurturing and respect.
Why Some Step-Parents Hate Their Stepchildren
Understanding why some step-parents harbor negative feelings towards their stepchildren can be a complex issue. It's not something that happens overnight, and it often involves a mix of personal, emotional, and psychological factors.
One reason could be the step-parents' struggle to find their place in the family. They may feel like an outsider, especially if the stepchild is resistant to accepting this new person in their lives. This resistance can lead to feelings of rejection and resentment in the step-parent.
Another factor could be the step-parent's unrealistic expectations. They may expect to instantly form a bond with the stepchild, not realizing that building a relationship takes time and effort. When these expectations are not met, it can lead to disappointment and frustration.
In some cases, the step-parent may have underlying anger issues that they project onto the stepchild. Instead of addressing these issues, they may find it easier to blame the stepchild, leading to a cycle of negativity and conflict.
A specific example that I've observed involved a friend who became a stepmother. She had a hard time adjusting to her new role and often felt like she was walking on eggshells around her stepchildren. She was afraid of overstepping boundaries and at the same time, she felt the need to assert her authority. This led to a lot of tension and misunderstandings in the family. It was only when she started to talk to her partner about her feelings and concerns that they were able to make some changes and begin to build a healthier family dynamic.
It's important to remember that being a step-parent is a challenging role. It requires a lot of patience, understanding, and practical parenting skills. It's not about replacing the biological parent, but about finding a way to co-exist and co-parent in a way that is beneficial for everyone involved.
Need Someone To Talk To?
BetterHelp connects you with licensed therapists online.
Think about the relief of sharing your burdens with a professional.
>> Start your journey with BetterHelp now and receive 20% off of your first month.
.

As a BetterHelp affiliate, we may receive compensation from BetterHelp if you purchase products or services through the links provided.
What You Can Do If You Hate Your Stepchild
If you find yourself harboring negative feelings towards your stepchild, it's crucial to acknowledge these emotions and address them. Many step-parents experience similar emotions, and there are constructive ways to address these feelings.
Firstly, self-awareness is key. Acknowledge your feelings without judgment, and try to understand their root cause. Is it due to a personality clash, jealousy, or feeling threatened? Identifying the source can help you address the issue more effectively.
Secondly, communication is crucial. Have an open and honest conversation with your spouse about your feelings. Remember, your spouse is your ally and can provide valuable insights and support. However, ensure this conversation is respectful and constructive, focusing on your feelings rather than criticizing the stepchild.
Thirdly, establish boundaries. It's important for every family member to know what behavior is acceptable and what isn't. This can help prevent conflicts and ensure a respectful environment for everyone.
Lastly, focus on building a relationship with your stepchild based on mutual respect and understanding, rather than trying to force a parental role. You don't have to love your stepchild as you would a biological child, but treating them with kindness and respect can go a long way in improving your relationship.
Remember, it's okay to seek help if you're struggling. There are numerous resources available, including support groups and professional counseling, that can provide guidance and support.
Role of Therapy
One of the most effective ways to address this issue is through therapy. Therapy can provide a safe and non-judgmental space for you to explore your feelings, understand their root causes, and learn effective strategies to manage them.
Online therapy platforms like BetterHelp offer convenient and accessible mental health services. You can connect with licensed therapists who specialize in family counseling and have experience dealing with the unique challenges of blended families. They can guide you through the process of building a healthier relationship with your stepchild, your spouse, and other family members.
Family counseling can be particularly beneficial. It involves all family members and addresses the family dynamics as a whole. It can help everyone understand each other's perspectives, improve communication, and resolve conflicts. It can also provide the stepchild and the biological parent an opportunity to express their feelings and concerns.
I can recall one specific time when I've seen the transformative power of therapy in a friend's life. She was a stepmother who initially had a strained relationship with her stepdaughter. The tension reached a peak during the stepdaughter's first year of high school. One morning, as they were getting ready for school, an argument broke out. My friend lost her temper and started to cry, realizing that her emotions were creating problems in the family. She decided to seek help and started attending online therapy sessions. Over time, she learned to manage her emotions better and started to build a better relationship with her stepdaughter. She told me that therapy helped her see her stepdaughter not as another adult's child, but as a young girl who needed a parent figure in her life.
It's important to remember that many stepparents go through similar experiences. It's okay to feel ambivalent or even dislike towards your stepchild. But it's also important to address these feelings and not let them interfere with your role as a step-parent. You don't have to feel like a mother or father to your stepchild, but you should strive to be a positive and supportive figure in their life. You may not always enjoy their company, but you can learn to respect them as individuals and appreciate their role in your life.
Locate the best therapy for blended families near you.
Tools To Overcome Hate Between Step-Parent and Stepchild
As we're just learned, blended families can be incredibly complex. Sometimes, tensions between step-parents and stepchildren can escalate into feelings of animosity or hatred. Here is a carefully curated selection of tools designed to help overcome these challenging situations, fostering understanding and nurturing positive relationships.
Final Thoughts
In conclusion, the dynamics of blended families can be complex and challenging. It's not uncommon for a step-parent to struggle with negative, hateful feelings towards a stepchild. However, it's crucial to remember that these feelings can be managed and even transformed with the right approach. Open communication, understanding, patience, and respect can help build healthier relationships within the family.
If you find yourself struggling, remember that help is available. Online platforms like BetterHelp offer accessible and professional counseling services that can provide the support and guidance you need.
 Remember, the goal is not to force a bond but to create a respectful and positive environment for everyone involved. It's a process, and it's okay to take it one step at a time.
Feeling stuck and unsure of how to move forward?
 BetterHelp's online therapists can offer you the guidance you need.
Picture a life where you have a trained advisor helping you through life's toughest challenges.
Begin Your Healing Journey with BetterHelp Now and Receive 20% Off of Your First Month.
.

As a BetterHelp affiliate, we may receive compensation from BetterHelp if you purchase products or services through the links provided.