Last updated on June 23rd, 2023 at 05:38 pm
As a
BetterHelp
affiliate, we may receive compensation from BetterHelp if you purchase products or services through the links provided. theMentalDesk.com may be compensated for referrals by the companies mentioned below. As an Amazon Associate we earn from qualifying purchases.
Why am I so stupid? Why do I feel so dumb? If you find yourself feeling this way from time to time, you're not alone. Some people don't feel like they belong in the world, while others feel like they're always making mistakes. For some, the feeling is persistent and overwhelming; it's called cognitive dissonance. Cognitive dissonance is the experience of holding two or more contradictory beliefs or attitudes simultaneously. It's a mental stressor that can make you feel uncomfortable or irritable.
A crucial reminder: Just because you FEEL stupid, doesn't mean you ARE stupid. Because you aren't! But it might be challenging to avoid tearing ourselves apart when we feel dumb. We begin evaluating ourselves against others and questioning why we aren't more successful. It can leave us feeling so isolated and out of place. Be at ease, though! You are neither the only one nor the first to ever experience this. So let's discuss feeling stupid, why it harms your mental health, and how to deal with it.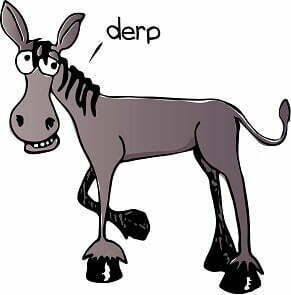 Causes Of Feeling Stupid
When you feel like you can't do anything right, it's easy to feel stupid. I, myself, have had this feeling occasionally. But what causes this feeling? There are many possible factors, including anxiety, stress, and low self-esteem. In some cases, feeling stupid may be due to a medical condition or medication side effects. If you're struggling with feelings of stupidity, it's important to identify the cause so that you can find the best way to address it.
Anxiety or Stress
Feeling stupid is a common experience that can be caused by many factors. One of the most common causes is anxiety or stress. Based on my research, when people are feeling anxious or stressed, they may feel like they can't think clearly or that they are not smart enough. This can lead to feelings of low self-esteem and frustration.
Low Self-Esteem
This is often referred to as a "low-self esteem" or "defeatist" type of thinking. Oftentimes, when people feel that they are not good enough or smart enough, it can lead to feelings of low self-esteem. This can cause feelings of hopelessness and depression. Sometimes people may even experience intense feelings of anger towards themselves. It's important to realize that the feeling of being stupid is more often than not a symptom of an underlying problem.
Medical Conditions
There are a variety of medical conditions that can lead to feelings of stupidity. ADHD, dyslexia, and autism are all conditions that can impact cognitive function and lead to difficulty learning and processing information. These conditions can cause someone to feel like they are constantly struggling and that they are not able to keep up with their peers. In my experience, this can be extremely frustrating and discouraging, leading to decreased self-esteem and feelings of stupidity.
There is no shame in having any of these conditions, and it is important to remember that you are not alone. There are many people who struggle with the same challenges. There are also many resources available to help you overcome these challenges. I highly encourage you to ask for help if you need it. You are not stupid, you just have a condition that makes it harder for you to learn and process information. You can overcome this obstacle with hard work and perseverance.
Need Someone To Talk To?
BetterHelp connects you with licensed therapists online.
Think about the relief of sharing your burdens with a professional.
>> Start your journey with BetterHelp now and receive 20% off of your first month.
.
As a BetterHelp affiliate, we may receive compensation from BetterHelp if you purchase products or services through the links provided.
Medications
Feeling stupid and dumb is a common side effect of both anti-depressants and anti-psychotics. While the root cause of the feeling can vary, it is usually caused by the medication itself. In some cases, the person may feel like they are not smart enough to do their job or take care of their responsibilities. Others may feel like they are not able to think clearly or process information correctly. This can be extremely frustrating and can lead to a feeling of self-doubt and insecurity. If you are experiencing this side effect, talk to your doctor or therapist about switching to a different medication.
Effects of Feeling Stupid
Regardless of the reason why you feel so stupid, this feeling can be really damaging to your self-esteem. It can make you feel like you're not good enough, or that you're not smart enough. This can lead to a lot of negative emotions, such as shame, embarrassment, and humiliation. These feelings can be really harmful, both mentally and emotionally.
Additionally, feeling stupid can also lead to further stress and anxiety. This is especially true for people who are already prone to these feelings. It can be really hard to deal with the stress caused by feeling stupid.
Lastly, feeling stupid can also cause problems in relationships. People may become hesitant to socialize or engage in activities with others because they feel embarrassed or ashamed of their lack of knowledge or understanding. This can make socializing and sharing with others even more difficult.
What are the High-Functioning Autism Symptoms In Adults?
Coping With Feeling Stupid or Dumb
It is perfectly normal to think 'why am I so stupid?' or 'why do I feel so dumb?' from time to time. In fact, it can be a challenge to accept and cope with those feelings. However, it is important to seek help if you find that you are struggling to cope. Therapy can be a great way to work through your feelings and accept yourself for who you are.
Challenging yourself can also be helpful in boosting your self-esteem. When you push yourself to do things that scare you or make you feel uncomfortable, you can start to see that you are capable of more than you thought possible. This can help reduce the feeling of stupidity and boost your self-confidence.
Accepting your feelings is an important step in coping with feeling stupid. Allow yourself time to grieve any setbacks or failures, and don't be too hard on yourself. Remember that everyone makes mistakes sometimes, and it is okay to be human.
Learn what makes you feel free.
Resources To Overcome Feeling Stupid
In our journey to self-improvement, it's important to have the right tools at our disposal. I've personally selected the following resources because they offer valuable insights and practical strategies to help you overcome feelings of being stupid and embrace your true potential.
Conclusion
In conclusion, thinking 'why am I so stupid?' is a common experience that can be caused by a variety of factors. It is important to understand why you are feeling stupid and to take steps to address the underlying causes. There are many ways to boost your self-confidence and feel more competent. You can start by setting realistic goals for yourself, seeking out support from friends and family, and taking steps to improve your skills. If you are struggling with feelings of stupidity, I encourage you to seek professional help. Don't be afraid to find a good online therapist, like those at BetterHelp.
Feeling stuck and unsure of how to move forward?
 BetterHelp's online therapists can offer you the guidance you need.
Picture a life where you have a trained advisor helping you through life's toughest challenges.
Begin Your Healing Journey with BetterHelp Now and Receive 20% Off of Your First Month.
.

As a BetterHelp affiliate, we may receive compensation from BetterHelp if you purchase products or services through the links provided.