Last updated on July 19th, 2022 at 12:24 pm
As a
BetterHelp
affiliate, we may receive compensation from BetterHelp if you purchase products or services through the links provided. theMentalDesk.com may be compensated for referrals by the companies mentioned below. As an Amazon Associate we earn from qualifying purchases.
Christian counseling combines psychology and the fundamentals of Christianity to provide a unique treatment for people struggling to deal with the rigors of everyday life. But finding affordable Christian counseling near me can be a struggle for some, especially if they live in remote areas.
This type of therapy is also known as 'Christian Psychology' and 'Biblical Counseling,' and its primary goal is to improve your mental well-being and how you approach the relationships in your life.
Frequently, people feel like they have a hole in their lives, especially when they're going through a rough patch. Painful events like losing a loved one, health issues, unemployment, financial strains, or problems with a relationship can be extremely taxing on your mental health. Still, a robust religious belief and a connection to God can help fill that void.
Christian counselors use the bible as a guidebook to help walk people towards a life lived by the virtues of Christianity. The holy book contains God's teachings that show people how to think and behave so they'll open their hearts and minds to God's will.
Removing behaviors from your life that are contradictory to Christian values is a crucial goal of Christain counseling.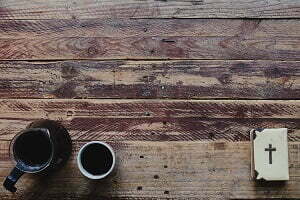 The Goal of Affordable Christian Counseling Near Me & Online
You can use Christian counseling to treat a wide array of mental and emotional conditions. There are many tools and techniques at a therapist's disposal, which we'll look at in greater detail below.
Help With Marriage Issues
The sanctity of marriage is a belief held dear to the hearts of followers of the Christian faith. "Till death do us part" is an undertaking that Christians believe should last a lifetime. But even the strongest marriages built on Christian values can go through rough patches, so utilizing biblical counseling can help you repair your relationship while staying true to your beliefs.
Christian marriage counselors will help couples work through marriage issues such as adultery, addiction, trouble communicating, a lack of intimacy, and any other potential problems that could derail a marriage.
If you are a Catholic couple, we can help you find the best online Catholic marriage counseling.
Help with Parental Challenges
Being a parent can be challenging, and raising your children can be as frustrating as it is rewarding. However, these challenges are universal, and there is no shame in seeking help when parenting issues become overwhelming. Christian counselors can help people of faith meet these challenges head-on while adhering to their beliefs.
Support For Mental Health Afflictions
The number of people suffering from mental health issues is increasing every year, and too many people with mental health conditions suffer quietly or feel like they have nobody to talk to.
Christian counselors are on hand to provide an outlet and support if you're struggling with your mental health. Even a low-cost Christian therapist near you or online will be trained in helping to deal with conditions like PTSD (post-traumatic stress disorder), depression, anxiety, and OCD (obsessive-compulsive disorder), and they can teach you how to accept that we're all the same in the eyes of God regardless of your personal struggles.
Support in Dealing with Grief
Losing a member of your family or a loved one can be devastating for all involved. While this is one of the most testing life events we can face, it's also the time we need to lean most heavily on our faith.
Frequently, however, it's when dealing with the ultimate grief that our belief system is tested the most, but a Christian counselor can gently steer you in the right direction with empathy and understanding.
To Overcome Substance Abuse & Addiction Issues
Throughout our lives, we're exposed to many substances and scenarios to which we can become addicted. Ridding yourself of addiction is one of the most challenging things a human can go through, and the first step to conquering addiction is seeking help.
Not only can an affordable Christian counselor near you or online arm you with the tools and support you need to get your life back on track, but they can also help you drill down to the bedrock of any underlying problems that are often the foundations on which addictions are built.
Reconnect You To God
Modern life often provides many distractions that pull us away from our faith and ultimately weaken our relationship with God. Christian counselors can help you to remove yourself from everyday stress, take a breath, and rekindle your beliefs and relationships with the almighty.
Need Someone To Talk To?
BetterHelp connects you with licensed therapists online.
Think about the relief of sharing your burdens with a professional.
>> Start your journey with BetterHelp now and receive 20% off of your first month.
.

As a BetterHelp affiliate, we may receive compensation from BetterHelp if you purchase products or services through the links provided.
Who Is Christian Counseling For?
Anyone who is suffering mental, psychological, or emotional turmoil can benefit from affordable Christian counseling online or near them. Christian psychology focuses on getting to the root of the problem and not only on the problem itself. Frequently, deep-rooted unseen issues manifest themselves in different ways that a low-cost Christian therapist can help you to heal using your faith.
We've compiled a list of the most recurrent reasons why people visit Christian counselors below:
Addiction or Substance Abuse

Loss of Faith

Grief Counseling

Mental Health Issues
Can I Benefit From Affordable Christian Counseling?
Though affordable Christian counseling is explicitly aimed at folks who are practicing Christians, people from all walks of life can reap the benefits from this kind of treatment. Anyone who, for whatever reason, is struggling mentally or emotionally can find relief through Christian therapy.
While a Christian counselor can help strengthen the beliefs of Christians struggling with their faith, they can also introduce non-Christians to different treatment methods and previously untapped ways of thinking.
Online premarital Christian counseling is also a great option for those soon to be married.
What You Should Expect From A Low-Cost Christian Therapist?
While there are similarities between Christian counseling and more traditional treatment methods (such as cognitive-behavioral therapy or CBT), Christain counseling can draw on various tools that aren't available to standard therapists.
Because standard therapies aim to treat everyone regardless of their faith, they cannot use prayer, bible study, and religious affirmations as a part of their treatment.
Christain counselors believe that traditional secular counseling methods, while themselves very effective, lack the tools to treat the spiritual health of people struggling with everyday life and their mental health.
To fully realize your relationship with God and your relationship with yourself, a Christain counselor will focus on all facets of your life (including mental health, spiritual connections, relationships, and other personal problems) to help you heal.
What Should I Look For in an Affordable Christian Counselor?
When searching for a counselor (either Christain or secular), the most critical thing to consider is that they are fully licensed and properly trained in their field. While the experience of your chosen therapist is essential, that they are licensed professionals is non-negotiable.
In addition, you'll need to search for a therapist whose beliefs align with the denomination of your Christian faith. If you have a counselor who tries to "convert" you to their way of thinking, it will only add to your emotional turmoil.
Don't settle for the first counselor you speak to because you're eager to get your treatment underway. Both you and your counselor must be compatible and comfortable with each other for the sessions to be their most effective.
It's not uncommon for patients to try two or three therapists until they find the right one for them. However, having a Christian counselor who sets you at ease and conforms to your beliefs is invaluable to your healing process and helps you get your life back where you want it to be.
How Can I Find an Affordable Christian Counselor Near Me Or Online?
There are more than a few ways to an affordable Christian counselor near you. The best ways are probably to ask for referrals from friends, your doctor, religious leaders, or even a neighbor that you trust.
If you don't like the idea of going to in-person counseling sessions at a typical office, then I recommend that you strongly consider online Christian counseling with a certified therapist, social worker, or psychologist. Not only is online Christian therapy more affordable, but it's also more convenient. You can get the help that you need from the comfort of your home. I recommend all of my Christian friends try BetterHelp, as they are the largest and most trusted resource for online Christian therapists.
Feeling stuck and unsure of how to move forward?
 BetterHelp's online therapists can offer you the guidance you need.
Picture a life where you have a trained advisor helping you through life's toughest challenges.
Begin Your Healing Journey with BetterHelp Now and Receive 20% Off of Your First Month.
.

As a BetterHelp affiliate, we may receive compensation from BetterHelp if you purchase products or services through the links provided.