Last updated on July 19th, 2022 at 12:21 pm
As a
BetterHelp
affiliate, we may receive compensation from BetterHelp if you purchase products or services through the links provided. theMentalDesk.com may be compensated for referrals by the companies mentioned below. As an Amazon Associate we earn from qualifying purchases.
Even if you are physically resting, you cannot truly relax if you have a lot on your mind. Mental unrest is an issue common to overthinkers who constantly worry about a lot of trivial things. Learning to rest your thoughts is just as important as relaxing your body. Learning how to occupy your mind is an invaluable skill.
Keeping your mind occupied is a great way to silence it. When your brain is busy doing other things, it would not have time to entertain your intrusive thoughts. Learning how to keep your mind busy is a must-have skill for self-care.
Below are 51 things to do to keep your mind busy and away from overthinking.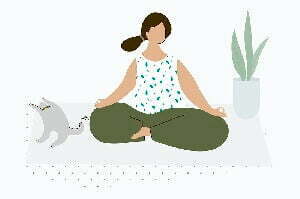 How To Occupy Your Mind: 51 Ways
1: Take a stroll. Walking can be so enjoyable especially if you have a dog!
2: Hit the gym. Does not only improve your health but also your mood.
3: Take a shower. It refreshes more than just your body.
4: Get a new hobby. This is the most effective and sustainable way to keep your mind busy.
5: Read a book. It can sharpen your mind and imagination.
6: Grab a coffee. A little caffeine can help you boost your energy.
7: Play a song. It is a great way to alter your mood and relieve stress.
8: Try new things. You could uncover your hidden talents and interests.
9: Sing out loud! It promotes positive feelings.
10: Think positively! Say positive affirmations to yourself regularly.
11: Volunteer for a good cause. It is always fun and fulfilling to help other people.
12: Play with your pets! If you do not have one you can always adopt one.
13: Play some board games. Or any other convenient games.
14: Take a drive. It can be relaxing and a good way to de-stress and unwind.
15: Make a list. It helps you organize your thoughts.
16: Take a rest. A nap would be a good way to rest and ease your stress.
17: Chat with a friend. Sharing things will help you feel better.
18: Do some housework. Cleaning your house is surprisingly therapeutic.
19: Change your hairstyle. You can color or cut it for a new look.
20: Recycle! You will be doing a favor for yourself and the environment.
21: Make your own food. Cooking good food can be very enjoyable.
22: Pick up a new instrument. It will never bore you.
23: Go on a vacation. Planning a beach trip or camping will surely keep you busy.
24: Spend time with your friends. This is the best way to forget your problems and reduce your stress.
25: Keep a journal. It can help you track your personal growth.
Need Someone To Talk To?
BetterHelp connects you with licensed therapists online.
Think about the relief of sharing your burdens with a professional.
>> Start your journey with BetterHelp now and receive 20% off of your first month.
.

As a BetterHelp affiliate, we may receive compensation from BetterHelp if you purchase products or services through the links provided.
26: Enroll in a free class. New learnings are never not good, and you also have a lot of options.
27: Tidy up your space. An organized room will lift your mood.
28: Climb a mountain. It can be tiring but definitely thrilling and exciting.
29: Solve a puzzle. It is a great exercise for the brain and feels so satisfying when it is done.
30: Pick up a new dialect. It can be difficult, but it is a good additional skill to have.
31: Try drawing. Or sketching. Or doodling. It helps you clear your mind.
32: Write a poem. Or even a book if you can. Or better yet, write something you are passionate about.
33: Fill in a coloring book. You're never too old for the fun of a coloring book.
34: Play with paint! You do not have to be good at it. Mixing paints alone can already give you so much fun.
35: Bake a cake. It is calming and the smell is just so relaxing.
36: See a movie. It is entertaining and can be inspiring too.
37: Make an art project. It could be anything that brings out your creativity.
38: Play with some bubbles. It makes you feel like an energetic, problem-free child.
39: Practice writing in Calligraphy. Watching other people do it is already satisfying, how much more if you are the one who will do it?
40: Watch a series. There are a lot of genres to choose from to suit your interest.
41: Take a dip. Swimming is another activity that is both good for the mind and body.
42: Put your emotions in writing. It will help you release negative feelings.
43: Try doing yoga. It improves your physical and mental health.
44: Light a sage. It helps you clear your mind and meditate.
45: Start meditating. It calms you and helps you achieve peace of mind.
46: Design a photo album. It can make you recall good memories.
47: Cook something new. New recipes are always exciting to try and taste.
48: Try blogging. Or vlogging! It is a wonderful way to express yourself.
49: Grow some plants. It is a great pastime, and it is so satisfying to watch plants grow beautifully.
50: Catch sight of a sunset. We can all agree that sunsets give off a magical serene atmosphere.
51: Finally, practice self-care. We have different ways of showing care to ourselves so as long as you are not harming other people, do whatever pleases you. Despite what some may think, making yourself the most important person in your life does not make you selfish.
Final Thoughts
To avoid boredom, we always look for things to do. Our mind always seeks stimulation which unknowingly makes it more difficult for us to relax. When you constantly need stimulation, it indicates that your mind does not know when to stop.
Because of that, you end up being too caught up with overthinking without even realizing it. All this mental restlessness will eventually drain you and burn you out.
Try doing some of the things to do to keep your mind busy that we mentioned above to help put your mind at ease. If one doesn't work, try another, or a combination of them. I find myself coming back to this list often any time that I need to occupy my mind in a positive way.
Remember, if you continue to struggle with anxiety, you should seek out the help of an empath therapist or holistic therapist.
Feeling stuck and unsure of how to move forward?
 BetterHelp's online therapists can offer you the guidance you need.
Picture a life where you have a trained advisor helping you through life's toughest challenges.
Begin Your Healing Journey with BetterHelp Now and Receive 20% Off of Your First Month.
.

As a BetterHelp affiliate, we may receive compensation from BetterHelp if you purchase products or services through the links provided.