Last updated on June 16th, 2023 at 06:45 pm
As a
BetterHelp
affiliate, we may receive compensation from BetterHelp if you purchase products or services through the links provided. theMentalDesk.com may be compensated for referrals by the companies mentioned below. As an Amazon Associate I earn from qualifying purchases.
If you are a therapist leading multiple therapy groups, you may experience the stress of coming up with engaging topics, ensuring attendance, and finding time to take notes. To alleviate this pressure, here are 10 empowering mental health group therapy activities for adults that can be adapted to different age groups and interests.
Group therapy is a crucial component in the treatment of mental health disorders, chronic illnesses, and addiction. Patients are able to participate in various activities with their peers, sharing experiences and challenges while growing together. This approach is an essential aspect of evidence-based treatment, and its popularity is on the rise.
Best Group Therapy Activities For Adults
1. Strong Ally
Think of a strong, intelligent, or powerful person or character, real or made up. Go back to a time when you felt alone, terrified, powerless, or out of control. Consider that the Powerful Person is present with you throughout the encounter, either providing assistance or simply being there for you. The Powerful Person is there while the participants reenact the recollections. Each participant selects the necessary actors for the scenario and gives them instructions on how to perform the activities of the various roles. In the scenario, the client portrays herself.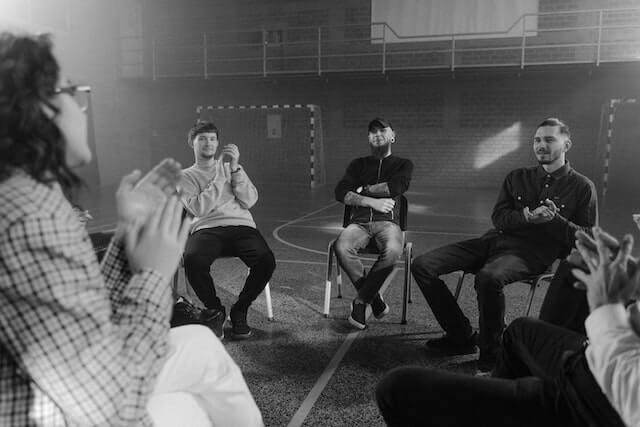 2. Your Purpose
Paper is folded into three parts. Include your personal traits, abilities, gifts, and capabilities in the first area. Include global issues that worry you in the third area, such as child sexual abuse, animal cruelty, poverty, etc. Use your imagination to come up with at least three ideas to leverage your talents from the first area to address issues from the third section in the middle portion. Sketch and color a picture of one of these concepts as though it had already occurred and solved the issue.
3. The Lighthouse
Imagine that you are at sea on a stormy night and are lost. A faint trail of light guiding you to land is seen. You can make it if you row hard. Someone has a warm dinner, clean clothing, and a place to relax ready for you.
As a source of direction in your life, create a drawing, coloring page, or painting of a lighthouse. Draw yourself anywhere in the picture, either at the lighthouse or in the boat on the ocean. Use words that symbolize your sources of optimism, faith, and family.
4. Resilience
Paint, sketch, or color a picture of a natural species that manage to thrive in a hostile environment, such as a weed growing on a pavement, a rare fish at the ocean's bottom, or a critter living in the desert.
5. Balanced System
A balanced system is one in which each component participates by giving and receiving in order for the system to survive. The same holds true for a single person, a family, or a civilization.
Activity: Draw a scene from an environment you are acquainted with, such as a forest, beach, lake, or jungle. Show the components of the ecosystem that interact with one another, such as the water that sustains animals and is refilled by rain. Animals both consume and fertilize plants. Fallen leaves provide nutrients to the soil, which in turn encourages new plant development. What does a system feel like when it is in balance? How do other systems maintain their equilibrium?
6. Poetry In Motion
Everyone in the group thinks up five to ten words and writes them down on a sheet of blank paper. Participants use the words that were spoken to create 5 to 10 phrases on lined paper, incorporating filler words as necessary. To create a group poem, distribute the sentences and choose the best line from each person to put on one sheet of paper. (This practice frequently results in remarkable inventiveness and thought-provoking poetry.)
7. Change History
Choose a bad memory that you feel comfortable discussing with the group. As clearly as you can, sketch, paint, or color the scene. Add whatever you felt was necessary at the time to avoid, put up with, or react to the circumstance in a way that would have been preferable to what transpired. Write about your experience afterward in a notebook or in free verse. If it seems appropriate, make a commitment to yourself to take what you can from the experience and work to receive the support you require to avoid or get through challenging situations.
8. Perfect Life
Create a picture of your ideal life, complete with a house, relationships, outfits, employment, and accomplishments. On the reverse of your page, list the three actions you will take to realize your ambition.
9. The Timeline
Make two points on a sheet of paper, one for "birth" and the other for "now," on the opposite ends of the page. Between the two spots, draw a line. Decide on at least three high and low times in your life, then graph them according to the sentiments you had at each point and your age (horizontally) (vertically). High points and low points will be above your lifeline, respectively. Create a zigzag line by connecting the spots with lines. As you share the events with the group, they react with applause, shouts, and compliments at the successful moments and jeers and words of encouragement at the unsuccessful ones.
10. The Sharing Circle
Each person takes turns sharing something with the group while seated in a circle, such as singing a song, doing a dance, reciting a poem, telling a joke, relating an interesting fact, or imparting a new skill. Everyone is urged to show encouragement and pay attention while others speak.
Also Read: 39 Best Group Therapy Activities
Best Mental Health Group Activity Games
Overcome: Addiction Recovery Questions Group Therapy Game is an innovative and comprehensive toolkit developed in collaboration with top addiction specialists. Designed to be accessible and effective for anyone, no matter where they are on their recovery journey, this self-motivation and wellness tool is a game-changer for those struggling with addiction. With 70 new and updated cards, the set includes 50 recovery cards for difficult times and 20 reflection cards for moments of self-reflection.
Unlike traditional clinical approaches, Overcome is a fun, engaging, and user-friendly game that addresses common experiences and triggers that can lead to addictive behavior. It's perfect for individual use or as a group therapy game, and it's built to last. The cards are printed on thick, double-sided card stock with a glossy finish, making them a positive resource for managing impulses and overcoming addiction. Give Overcome a try and see how it can make a real difference in the lives of those who use it.
The Fun Social Skills and Therapy Game is a versatile and engaging game that offers 3 games in 1 with 150 cards! The game is designed to create a culture of trust and understanding within families, schools, and small group settings. The family conversation starter game allows teens and adults to share funny stories, secrets, views, and dreams in a fun and playful atmosphere. This game is perfect for family dinners, road trips, holiday gatherings, cottage weekends, and family vacations!
The Fun Social Skills and Therapy Game is not just for families, it's also a great tool for schools and therapists. Many teachers, school counselors, and therapists use this game to improve relationships and build self-esteem. The game is divided into three decks, each with a specific focus. The chill deck is perfect for casual conversation topics like music and fashion, while the chat deck sparks honest conversations about current affairs and social media. The challenge deck is for tackling harder themes from ethics to personal issues in a judgment-free space. With this versatile and engaging game, everyone can learn social skills while having fun and improving their relationships.
Totem Mindful Moves Card Game is a unique and engaging therapy game designed to help people connect with one another on a deeper level. With 160 cards and 6,400 ways to express appreciation for loved ones, this game is perfect for families, friends, and colleagues alike. Not only does it help build self-esteem and confidence, but it also strengthens bonds and creates a positive atmosphere for social and emotional growth.
What sets Totem apart is its versatility. Whether you're looking to improve relationships with family or colleagues, this game can help. It's a great tool for therapists and counselors to use in their practice, helping clients explore coping strategies in a fun and safe way. With no losers in the end, everyone walks away feeling uplifted, inspired, and appreciated.
Overall, Totem Mindful Moves Card Game is a valuable addition to anyone's toolkit for personal and professional growth. It provides a positive space for people to express their feelings and build stronger connections with those around them.
Looking for a fun and engaging way to teach mindfulness to kids and adults? Look no further than the InnerIcons Mindfulness Therapy Games: Social Skills Game. This game, designed by teachers, is a variety of fun activities that help players feel grounded, find calm, improve focus, and relax. Unlike other therapy tools, this game is not just a deck of affirmation cards. It's a top-rated group therapy game that engages the inquisitive minds of kids and adults during group counseling sessions.
The game features large, sturdy cards with a clean design that's perfect for counseling and therapy, but also great for home and family fun. Plus, it comes with a bonus booklet with directions and extension activities that promote inner calm, peace, and self-care for a healthy mind. InnerIcons is a socially conscious and eco-friendly company based in the USA that teaches mindfulness education, and a portion of each purchase goes to charity. So, if you're looking for a high-quality, engaging, and fun therapy game that teaches mindfulness and social skills, look no further than InnerIcons Mindfulness Therapy Games: Social Skills Game.
The S&S Worldwide Toss 'n Talk-About Addiction Ball provides a novel and engaging approach to discussing addiction and recovery. With questions, quotes, and positive affirmations printed on the 24″ inflatable ball, players are encouraged to open up about their personal feelings, frustrations, and strategies for controlling addictive impulses. Whether used in one-on-one sessions or group activities, this ball provides a fun and interactive way to inspire new ways of thinking about addiction and recovery.
This addictive recovery ball is also easily adaptable for all ages and functioning levels. It includes a handy activity sheet with ideas for play and a repair patch, making it a practical addition to any therapy or counseling toolkit. The questions and affirmations printed on the ball range from thought-provoking to encouraging, inspiring players to reflect on their addiction journey and take steps toward healing and recovery. Overall, the Toss 'n Talk-About Addiction Ball is a creative and effective tool for anyone seeking to facilitate meaningful conversations about addiction and recovery.
The Self-Esteem Thumball is a six-inch ball that is a perfect tool for group therapy, team-building activities, or even just a fun family game night. Players simply toss the ball to one another and answer the question that their thumb lands on. With questions designed to help players learn what healthy self-esteem is and how to increase it, this game is perfect for players of all ages, from kids to adults.
Not only is the Self-Esteem Thumball a great way to build self-confidence, but it also encourages players to listen to one another and support each other. With the fun and interactive nature of the game, players are sure to have a blast while learning important life skills. Whether you're a therapist, school counselor, or just someone looking for a fun and unique way to improve your self-esteem, the Self-Esteem Thumball is the perfect tool for you!
You Know Social Skills Games is an exciting and engaging therapeutic game that promotes positive thinking, builds self-esteem, and enhances social skills for kids, teens, and adults. This game is perfect for family game nights, small group settings, and for teachers, school counselors, and therapists. The game features thought-provoking questions that encourage players to reflect on their strengths and weaknesses and reinforce a positive self-image.
The game includes two decks of playing cards, with 108 cards in total, and is designed for 2-6 players aged 7 and above. You Know is made in the USA and is one of the top therapeutic games on the market. This game is an excellent icebreaker and relationship builder, encouraging players to get to know each other better while building confidence and focusing on the positive. It can be used in counseling groups to build social skills and positive communication, in small group settings such as classrooms, camps, or team-building activities, and with families to provide insight into children's social skills, decision-making processes, frustration tolerance, level of respect for rules and boundaries, and problem-solving abilities.
Check out these 8 therapy games you can play online.
Closing Thoughts
This article is jam-packed with activities and games that can be used successfully in group therapy. The majority of these games and activities may be used in a variety of group therapy settings.I
This article should at least add a few items to your knowledge or toolkit for group facilitation, whether you're a therapist, other mental health professional, or just interested in how group therapy might help you.