Last updated on July 9th, 2022 at 11:48 am
As a
BetterHelp
affiliate, we may receive compensation from BetterHelp if you purchase products or services through the links provided.
A friend of mine recently contacted me in a state of despair. She began by saying, "My husband died and I want him back."
When a loved one passes away, many of us might find it hard to recover and find happiness again. We are drowned in emotional and mental despair. Every morning when we wake up, the painful truth of our loss makes us feel weak and defeated. It is no surprise that the death of a loved one is the biggest source of stress.
It takes a toll on our body to suffer from too much stress. Studies have shown that persistent stress at work can cause diabetes and heart disease. How much more can the stress of losing a loved one do? The death of a spouse has been proven to even sometimes be fatal for the surviving partner.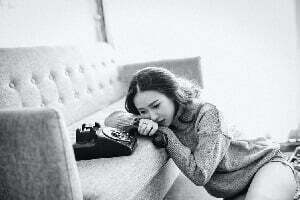 Findings from a certain study show that people rated the loss of a spouse as the most stressful experience in a person's life. According to the New England Journal of Medicine, the mortality rate of a spouse increased when their partner was simply hospitalized. Men have a higher risk of death because of a spouse's hospitalization (22%) than women (16%). As one could expect, the fatality rate of the surviving spouse increases dramatically a year after the loss of a spouse. Sometimes it feels like the emotional pain is too much.
"My Husband Died And I Want Him Back." – Martha's Story
The stress and trauma that come with the death of a spouse are not new to Martha Reynolds. It took every ounce of willpower she could make to even get up from bed in the morning after her dearest 38-year-old husband Joseph passed away. If it hadn't been for Sean and Bradley, her six and five-year-old kids, who needed her the most in those trying times, she says that she would have just stayed in bed and waited for her time to follow her husband.
As a BetterHelp affiliate, we may receive compensation from BetterHelp if you purchase products or services through the links provided.
The life purpose of Martha became blurry after cancer took her husband away. She cannot feel happiness or satisfaction anymore. Her emotions were on a never-ending roller coaster. She was not only forced into the unimaginable loss that came with the passing of her beloved spouse, but she also had to struggle with the death of her dreams.
Before Joseph died, the couple had purchased a home in San Diego, California. They wanted to see their sons grow and flourish in their new place together. However, fate had something else in mind. Martha was abruptly pushed into the role of being a solo parent. She lost her desire to live and her passion for her writing profession after Joseph's death.
Martha's health and well-being suffered, and her emotional state became very unstable when she and her sons relocated from Illinois to California to continue Martha and Joseph's shared dream. The only issue was that Joseph was not with them anymore. Martha was even admitted to the hospital with chest pains as a result of the extreme stress she felt.
Martha lived her life like a zombie. Her heart was severely broken, and she had no source of happiness at all. Martha routinely grieved in private. Fortunately, her innate passion for writing soon took control and became a critical part of her recovery. She used pen and paper to find comfort and relief. She kept a journal of her thoughts and emotions as she went through her new life. Journaling provided her a secure space where she could articulate and express emotions she could not express in person. Her health would have suffered greatly if she had not found her outlet.
Currently, more than fifteen years since Joseph died, Martha helps people all around the country by telling her personal experience, offering sympathy and compassion, and sharing what helped her most in emerging from the lowest and darkest point of her life.
Martha's most effective therapy for regaining her mental and emotional wellness was without a doubt writing. Her own handwritten words, one after another, helped her heal her wounds. In addition, she and her sons also benefited from bereavement counseling provided by BetterHelp, an online counseling platform. She got a great therapist to help her cope with her damaged emotional body, as well as guidance to aid in her decision-making and additional help to assist her struggling children.
Learn how to talk to a therapist for the first time.
Tips To Cope With The Loss Of Your Husband
In the end, Martha received assistance from a variety of sources and activities. Here are her tips and advice for regaining health and happiness following the death of a loved one:
Write a journal without hesitations and restrictions. Let yourself express every thought, emotion, and feeling, irrespective of how good or bad they appear.

Obtain assistance and support from a local hospice, bereavement organization, or online therapy platform such as BetterHelp.

Allow yourself to take time to heal for as long as necessary.

Volunteer for other people. Make an effort to help others.

Take good care of yourself by doing things you like such as taking a stroll, listening to music, sleeping late, or getting massages.

Try something new during the holidays; create new traditions and discover creative ways to celebrate.

Encourage friends and family to say your loved one's name and share their best memories with you by talking about them.
Martha was able to prevent serious health problems by taking action to help herself through her toughest days. She is now happy and healthy. She is the President of her local social club and has endowed scholarships at Northwestern University, her alma mater, and UCLA in Joseph's honor.
Her sons are no longer young boys, but grown, well-balanced, and happy young men. Martha's life is once again joyful and meaningful. Even though she didn't believe it was possible, the steps she made to help herself paid off in the most profound ways.
Get The Help You Need From A Licensed Therapist
Online therapy is convenient, affordable, and effective.
>> Start using BetterHelp now and receive 15% off of your first month.

As a BetterHelp affiliate, we may receive compensation from BetterHelp if you purchase products or services through the links provided.