Last updated on February 24th, 2023 at 05:56 am
As a
BetterHelp
affiliate, we may receive compensation from BetterHelp if you purchase products or services through the links provided. theMentalDesk.com may be compensated for referrals by the companies mentioned below. As an Amazon Associate we earn from qualifying purchases.
Conversations with your therapist will often include topics and subjects that may not be comfortable to talk about. It is for this very reason that you should prepare yourself to be open and vulnerable when attending a therapy session. But what you should never tell your therapist may surprise you.
With that in mind, we are going to go over some of the most typical things therapists hear from their clients and how they can be hampering your progress in therapy. We will outline what you should never tell your therapist.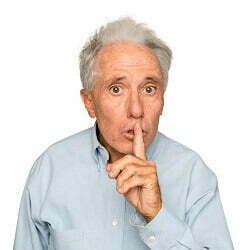 Half-truths Or Lies
Even if you are talking with someone whom you know and trust, discussing personal concerns can be tough. If you are talking to a stranger, this can make it feel much more difficult. You may feel inclined to lie or misdirect your therapist because you are too ashamed to tell the truth about something that might expose a negative side of you. However, you should refrain from doing so. You should never tell your therapist lies. You should never tell your therapist lies. Know that anything you say to your therapist is confidential.
You may want to stop the conversation the moment your therapist starts bringing up topics you are not ready for. It could be because thinking about it hurts your feelings, or that you honestly believe that you do not have the answers they're searching for. However, your development will be hampered if you will not tell the whole truth.
Your therapist's goal is to help you improve in the aspects of life which you're having trouble with. And they need you to be honest with them for them to do so. You do not have to reveal every detail and event in your life. However, you must ensure that you are sharing truthful information. Lying to your therapist or attempting to deceive them will make it more difficult for them to help you. It's fine to admit that you're uncomfortable, but you must always try to be truthful.
If you're new to therapy and fearful that therapy won't work, you need to share those thoughts and feelings in order to build a solid therapeutic relationship.
Need Someone To Talk To?
BetterHelp connects you with licensed therapists online.
Think about the relief of sharing your burdens with a professional.
>> Start your journey with BetterHelp now and receive 20% off of your first month.
.

As a BetterHelp affiliate, we may receive compensation from BetterHelp if you purchase products or services through the links provided.
Share Feelings, Not Just Facts
Humans are unique beings. It's normal for people to have different reactions to the same circumstances. This only means that your therapist will not see the whole picture if you merely tell them the facts about an event or narrative. It is important that you must also express your emotions concerning those circumstances.
Expressing how you feel about a certain subject can help your therapist understand you more. Were you sad, upset, or irritated by the situation? Unless you tell your therapist, they have no means of knowing what you felt about a certain situation.
It's also okay if you don't want to share your emotions because you aren't sure of your feelings yourself. It's fine to let your therapist know about an experience and tell them that you are uncertain of your feelings about it. This allows them to discuss it with you and it can also help you in exploring and rationalizing your feelings. It's also fine to tell your therapist that you don't want to talk about something for a while. Asking your therapist to refrain from discussing a certain topic for a specific period of time is also fine. You should be able to heal at your own comfort and pace.
Find a DBT Therapist near you now.
Don't Tell Them That You Want A Prescription
You should never tell your therapist that you want a prescription. Many medications can be provided to aid those who are suffering from mental health issues such as anxiety and depression. However, taking medications is not always the best option. You are missing out on the real value of therapy if you are only seeking a therapist to get a prescription. It's also possible that you won't be able to obtain the medication you want.
Psychologists do not have the authority to make prescriptions. Some of them work with psychiatrists or doctors who can do that part of the treatment. Psychiatrists, on the other hand, can write prescriptions but rarely provide counseling. Hence, if you are attending counseling with the hopes of getting a prescription, you will probably end up meeting the wrong doctor.
Don't Ask To Be "Fixed"
The idea that a therapist's job is to "fix" people is incorrect. It's not like those people are "broken" to begin with. The goal of therapy is to help people make some positive changes in their lives so that they may grow and improve.
Each person has areas in their lives where they may need help and guidance every now and then. Some situations may be too difficult for people to manage and handle on their own. A licensed therapist can assist them in achieving this goal.
You will be disappointed if you are expecting your therapist to solve all of your problems for you. You are the one who is really doing the work throughout your therapy session. A therapist may know the right things to say and ask in order to help you learn more about yourself, but they cannot perform the work for you. So, if you are solely relying on your therapist to fix you, you are missing the main point of therapy. The therapist's job is only to assist you in finding the best solutions for your situation.
Locate a family therapist near you.
Don't Tell Them Every Minute Detail
It is important to build a good connection and trusting relationship with your therapist before going into more depth. Casual conversations and small talks can also play a vital part in developing this connection.
Small talk, on the other hand, is sometimes used by some people to avoid discussing the real reason why they are attending a therapy session. When a person overshares about their lives, it frequently is because they are avoiding getting to the true reason for what brought them to see a therapist in the first place.
It is important to take note that your therapist may occasionally ask you a question that leads to you talking about things that are seemingly unrelated but emotionally relevant to you. If you think you are discussing things that seem unrelated but were prompted by your therapist, it might be beneficial for you to keep exploring that path.
However, if you are merely repeating details from a previous conversation, evaluate whether you are trying to avoid getting to the bottom of the problem. Always remember that your therapist only has access to the information you choose to share with them.
Don't Tell Your Therapist That You Didn't Do The Homework
During your therapy sessions, your therapist will most likely ask you to try new things in your everyday life. Therapists usually call these homework. They may appear odd to you, or they may make you feel uneasy since you're not used to them, but there's a good reason why your therapist requested you to try it. Therapy homework can help you keep progressing forward in between attending your sessions.
Any progress you might be making will be slowed if you forget or purposely neglect to do what your therapist asked. It's important to remember that it's not their job to "fix" you. They will only guide and help you in learning how to take the measures you need to do every day to have a healthy and happy life.
If your therapist asked you to do something you're not sure you're ready for or that makes you feel uncomfortable, just be honest and tell them. When you're open and honest with your therapist, you give them the opportunity to talk about your feelings and thoughts, and they might be able to give you a more suitable alternative.
Final Thoughts
Now that you know what you should never tell your therapist, you can get the most out of your therapy sessions. Only by being open and honest with your therapist can you maximize your time with them.
If you have been putting off therapy out of fear, or you simply don't yet have a therapist and want to get started, then I highly recommend checking out BetterHelp. They have thousands of licensed therapists available for online counseling and you can get started today.
Feeling stuck and unsure of how to move forward?
 BetterHelp's online therapists can offer you the guidance you need.
Picture a life where you have a trained advisor helping you through life's toughest challenges.
Begin Your Healing Journey with BetterHelp Now and Receive 20% Off of Your First Month.
.

As a BetterHelp affiliate, we may receive compensation from BetterHelp if you purchase products or services through the links provided.