Last updated on June 23rd, 2023 at 05:43 pm
As a
BetterHelp
affiliate, we may receive compensation from BetterHelp if you purchase products or services through the links provided. theMentalDesk.com may be compensated for referrals by the companies mentioned below. As an Amazon Associate we earn from qualifying purchases.
One of the purest relationships in the world is the one between a mother and her children. However, it is not uncommon at present times, to witness mothers who are negative and even depressing. In fact, a friend recently came to me and said, "My mother is negative and depressing. What can I do?"
Realistically, it is believed that 1 out of 5 children live with a severely depressed mother or father. Because children are generally more fond of their mother, they are often the first ones to recognize her depressed and negative behavior.
Children often arrive at this conclusion after contrasting the way their mother is treating them with the way their friends' or relatives' mothers treat them. But, this conclusion can sometimes be wrong.
There could be some misunderstandings between the two of you. You might be quick to judge her. Perhaps there's a lack of communication.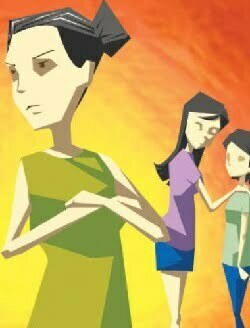 Signs That My Mother is Negative & Depressing
Let's have a look at some of the telltale signs that my mother is negative and depressing, or if you're just imagining it.
She Tries To Be The Center Of Attention
Do you feel like your mother is often trying to get everyone's attention during gatherings? Has her need for attention even led her to face several awkward and very embarrassing moments?
In that case, your mother's negative and depressive behavior can be confirmed.
Craving for attention has been acknowledged by psychologists as a strong indicator of loneliness and depression.
In these situations, you might find that your mother is trying to be the center of attention even at events such as your birthday, where you are supposed to be the centerpiece.
She's Always Pessimistic
Have you ever experienced a moment when you and your mother have opposite opinions on a specific topic? That is usually pretty standard. What's not standard is you constantly have an optimistic approach while your mother always shows a pessimistic approach. Here's an example to further help with understanding.
Imagine you're a student in high school and you're asking for permission to go on a school trip with your friends.
Now, although it is safe for you to go on the trip with your classmates since you will be supervised by your teachers, your mother will still indicate an unfortunate event that happened in the past and will not permit you to go because of it.
This is definitely considered a pessimistic approach, as her decision-making is solely based on the negativity she has been holding in from previous events.
She Interferes Too Much In Your Life
It is not reasonable of your mother to be unaware of your emotional needs and look like she does not care while simultaneously intruding in your life way too much.
If you feel that your own mother has depressing and/or negative behavior, she probably doesn't consider the boundaries of your relationship, which both of you should respect. Growing up, children look to carve their own paths and live their own life.
With a negative mother in your life, she might not allow you to gain control over it. A good example is her being overbearing with her judgment on your life choices such as your career choice, your life partner, or your lifestyle as a whole.
She Doesn't Value Your Emotions
There are two primary responsibilities for every parent regarding their child's wellbeing; fulfilling their corporeal needs (food, clothing, etc.) and also caring for their emotional needs (listening to their issues, giving advice, etc.)
If you get the feeling that your mother has not been there to cover your emotional needs and hardly even spends time talking about them, she has been refusing to offer you emotional support.
All you need to do is ask yourself, was she ever there to listen to you? Did she even bother when you seemed stressed or down? When you were damaged mentally, did she offer you the emotional safety you needed? If your answer to the above questions is "No", then your mother was being inconsiderate towards your emotions.
What To Do If My Mother Is Negative And Depressing?
If you have successfully recognized these indicators in your mother's behavior, and you are positive that your judgment is correct and that your mother is negative and depressing, these are the steps you need to take to potentially alter her negative mindset.
1. Praise Her When She Is Positive
By giving praise to someone for a particular behavior, you are encouraging them to do it even more. Giving praise has been acknowledged as one of the best ways to help bring change to someone.
Occasionally you will witness your mother being extremely positive and happy. During this time you should do your best to praise her in any way you can. What you are looking for is convincing her that her positive and happy side is more uplifting and beautiful.
For instance, if, on a specific day, your mother appears happier than normal with little to no signs of depression, you should tell her "I love seeing you happy".
Or you can choose to say something that involves you, such as "When you are happy, it makes me feel positive and happy as well". This way you are letting her know that her positive attitude is greatly affecting you too.
If you keep encouraging her positive behavior, you will be showing her an extra reason to get rid of her depressive and negative side. Furthermore, if you directly approach this issue from an emotional aspect, it will have longer-lasting effects.
Learn how to deal with toxic parents if you still live with them.
2. Set Proper Boundaries
Having boundaries is one of the most important aspects of every relationship. These boundaries can be altered based on each person's needs, but they still should exist.
If your mother is constantly showing negative behavior towards you, or even shows signs of hating you, even if you are in the process of trying to change her, you should try to keep your distance from her from time to time.
Your mother cannot change her negative behavior in a matter of days. This is a long and hard process for anyone, and there will be times when she will be very depressed and negative.
During these times, you should distance yourself from her. This way you can be sure that your mother's negativity will not affect you.
3. Get Professional Help
If you constantly find yourself thinking, "My mother is negative and depressing", then it can be extremely helpful to have somebody guiding you through this issue. A trained counselor will be able to help you identify where the issues may stem from and how to best overcome them.
If you read this blog often, then you know that I am a big advocate for online therapy from BetterHelp. They have the largest selection of online counselors and are very affordable. Not to mention it's super easy to get started. You can speak to a therapist in as little as a couple of hours, in some instances.
Need Someone To Talk To?
BetterHelp connects you with licensed therapists online.
Think about the relief of sharing your burdens with a professional.
>> Start your journey with BetterHelp now and receive 20% off of your first month.
.

As a BetterHelp affiliate, we may receive compensation from BetterHelp if you purchase products or services through the links provided.
4. Spend Quality Time With Her
One of the most important and useful characteristics of humans is their ability to communicate. However, the absence of it can be one of the main reasons for the deterioration of family relationships. The lack of communication between family members can cause several problems.
The same can be said about you and your mother. Despite the main reason for your mother's negative behavior being something else, not communicating with each other can further damage your relationship. Where can you start? You can spend more time with her.
Try to assist her in different tasks, do some fun activities together, or simply be around her in the house. This way you can ensure that you are tight and attached before moving on to the next steps.
Learn how to deal with your narcissistic mother.
5. Communicate Effectively
The best way to solve any problem is by talking about it. You could also try this with your mother, however, you will need to approach it strategically.
You cannot simply approach your mother one day and tell her that she is being negative and making you feel unsafe. She would consider it very rude and that would worsen the situation even more.
Instead, you should try a more progressive strategy. What does "progressive" mean?
It means approaching each conversation one step at a time. You do not even need to reach the main point of your discussion the first time you sit down to talk. If you have observed that you and your mother lack communication, you could try to change that by talking a little bit every day.
You can start with some general topics. For the first few times, you might need to keep talking just to keep the conversation alive. But, once you have established that base communication, you can progress to more specific topics and start expressing your feelings about her behavior.
Remember that the key is empathy. You need to approach this as a conversation instead of a conflict. Rather than saying things like "I will leave you if you do not change", you can say "Why do you keep doing this? Are you feeling ok? I am concerned for you…".
If your mother is older, consider finding a geriatric counselor for her.
6. Determine The Source Of Her Negativity
No one is born anxious, pessimistic, or depressed. Each person's depression and negativity originates from some source, regardless of their view on life.
The same concept applies to your mother. Perhaps she had to deal with some traumatic events during her childhood, she might have been raised with ignorance, or she may have lived around people with negative behavior for a long time.
Being her child, you probably have heard something about your mother's living circumstances. Knowing the specific reasons for the pessimism in your mother can be very helpful in altering her negative behavior, while also giving you the empathy to understand her situation even more.
If you do not realize that there could be many years involving bad conditioning behind your mother's negative behavior, you might not be able to change her behavior tenderly.
See also: Being with my mother triggers my depression
7. Regain Control Of Your Own Life
The final and one of the most important steps is to gain control over your life. Regardless of her pessimistic and rough behavior, she should not be the only source of warmth and security for you.
For example, if your mother said something bad to you, this does not mean that you should spend the rest of the day crying about it. If you are aware of her negativity, you can just ignore it and move on.
Do not concern yourself too much with what your mother says and do not let it bother you mentally.
With that said, you should always try to respect her and appreciate her positive aspects. Just remember to not worry too much when something she says feels negative.
A Negative And Depressing Mother: Helpful Resources
In this section, I've personally selected a range of resources for those dealing with a negative and depressing mother. These materials, chosen with care, aim to provide you with the support and strategies you need to handle these tough situations and move forward.
"Toxic Parents: Overcoming Their Hurtful Legacy and Reclaiming Your Life" is an enlightening book that guides you towards emotional independence. Authored by Craig Buck, this book helps you understand and break free from the damaging patterns established by your parents. It's a journey of self-discovery, offering you the tools to build self-confidence and inner strength. This book is a valuable resource for those seeking to understand their past and shape a healthier future. Look for it on Amazon now.
"Difficult Mothers, Adult Daughters: A Guide for Separation, Liberation & Inspiration" is an empowering book by Karen C.L. Anderson. It provides practical tools and insights to help women emotionally separate from their mothers without guilt, fostering personal growth and transformation. Anderson's work is based on her own experiences and those of hundreds of women she has worked with, making it a relatable and compassionate guide. This book is not just about understanding the complexities of mother-daughter relationships, but also about finding your own path to happiness and self-fulfillment. See it on Amazon.
"I'm Glad My Mom Died" is a raw, honest exploration of a daughter's journey through the loss of a toxic mother. This is a memoir by A. Lynn Blanco, who shares her journey of healing and self-discovery after the death of her toxic mother. The author explores the impact of her mother's death on her life and how it led to her personal growth. She discusses the challenges she faced, the lessons she learned, and how she was able to find peace and forgiveness. It's a raw and honest account that may resonate with those who have experienced similar circumstances. Buy it on Amazon today.
Conclusion
No matter how depressing and negative your mother's behavior becomes, you should always remember that she deeply loves you. Even if her actions seem negative at times, her intentions are always pure and her love unconditional.
Also, your mother's depression and negativity do not warrant your rudeness towards her. The best thing for you to do is to follow the steps above and show enough patience to allow her to understand and deal with her negative behavior. Remember that she did not acquire this behavior in a few days or weeks, so it cannot be changed within a few days or weeks either. Don't hesitate to get help from a BetterHelp therapist today.
Feeling stuck and unsure of how to move forward?
 BetterHelp's online therapists can offer you the guidance you need.
Picture a life where you have a trained advisor helping you through life's toughest challenges.
Begin Your Healing Journey with BetterHelp Now and Receive 20% Off of Your First Month.
.

As a BetterHelp affiliate, we may receive compensation from BetterHelp if you purchase products or services through the links provided.