Last updated on June 22nd, 2023 at 10:39 am
As a
BetterHelp
affiliate, we may receive compensation from BetterHelp if you purchase products or services through the links provided. theMentalDesk.com may be compensated for referrals by the companies mentioned below. As an Amazon Associate we earn from qualifying purchases.
Do you feel like being around your mom makes you depressed and is draining the life out of you? Are you constantly feeling anxious or depressed when you're in her presence? You're not alone. For many, the tight bond between mother and child can lead to a complicated relationship that is anything but healthy.
Unfortunately, this can often result in long-lasting effects on our mental health, leaving us struggling to overcome the negativity and toxicity that permeates the relationship. The truth is, a toxic mother can cause more harm than good, leading to feelings of depression, anxiety, and low self-esteem.
But don't despair! In this article, we'll explore how you can break free from the negative cycle and start living a happier and more fulfilling life.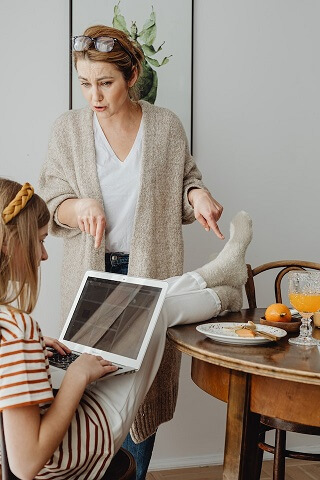 Signs That Your Mother Is Triggering Your Depression
It's hard to admit, but sometimes the people we love the most can also be the ones who make us feel the most unhappy. And when that person is your mother, it can be especially difficult to come to terms with.
Research shows that a negative relationship with your mother can be a major trigger for depression and anxiety. But how do you know if your mother is the root of your negative emotions? In this section, we'll explore the signs of depression that may be stemming from a narcissistic or toxic mother.
10 Signs Your Mom Is Making You Depressed
1. You feel anxious or tense around your mother.
If you find yourself feeling anxious or tense around your mother, it's a good indication that something isn't quite right in your relationship. Maybe it's the way she speaks to you or the constant criticism you receive. Whatever the cause, this feeling of unease can be incredibly draining and take a toll on your mental health.
2. You experience feelings of guilt or shame after spending time with your mother.
Do you find yourself feeling guilty or ashamed after spending time with your mother? Perhaps she's said something hurtful or made you feel like a disappointment. Regardless of the reason, this feeling of shame can linger long after your visit is over, leaving you feeling drained and unhappy.
3. Your mother is overly critical or judgmental of you.
When your mother's words feel like daggers to your self-esteem, it can be hard to shake off the hurt. Her constant criticism and judgment may leave you feeling like you can't do anything right. But it's important to remember that her behavior says more about her than it does about you.
4. You feel like you can't be yourself around your mother and have to put on a facade.
Living with a toxic mother can feel like living in a prison, where you are forced to hide your true self behind a mask of pretense. Every time you're around her, you feel like you're suffocating under her expectations and judgments. You may have become so used to hiding your true emotions and thoughts that you don't even know who you are anymore.
Need Someone To Talk To?
BetterHelp connects you with licensed therapists online.
Think about the relief of sharing your burdens with a professional.
>> Start your journey with BetterHelp now and receive 20% off of your first month.
.

As a BetterHelp affiliate, we may receive compensation from BetterHelp if you purchase products or services through the links provided.
5. Your mother dismisses your feelings or concerns when you try to talk to her.
Trying to have a heartfelt conversation with a narcissistic mother can be like trying to talk to a brick wall. You pour your heart out, but she dismisses your feelings with a wave of her hand or a flippant comment. The rejection and invalidation you feel can leave you feeling alone and hopeless.
6. Your mother constantly compares you to others or puts unrealistic expectations on you.
Growing up with a mother who always compared you to others and never seemed satisfied with your accomplishments can take a significant toll on your emotional well-being. It can make you feel like you're never good enough and that you'll never measure up. This constant pressure and unrealistic expectations can lead to feelings of depression or anxiety.
7. You feel like you're walking on eggshells around your mother.
Living in fear of your mother's reactions is a heavy burden to bear. When every step, word, or gesture can potentially trigger an outburst or judgment, it's impossible to feel comfortable in your own skin. This constant anxiety and hyper-vigilance can wreak havoc on your mental health and exacerbate feelings of anxiety or depression.
See also: Why Is My Mom Always Mad At Me?
8. You feel drained or exhausted after spending time with your mother.
Do you feel like you need a nap or a cup of coffee after hanging out with your mom? Do you have no energy to do anything else for the rest of the day? That's because your mother might be causing your depression. Being around her may drain you emotionally and mentally, leading to exhaustion and fatigue.
9. You find yourself avoiding your mother or making excuses to not spend time with her.
Avoiding your mother may seem like the easy way out, but deep down, you know it's not a permanent solution. It's hard to face the fact that someone you love is causing you pain. But sometimes, self-preservation means creating distance from toxic relationships. Don't let guilt hold you back from prioritizing your mental health.
10. Your mother has a history of emotional abuse or neglect towards you.
It's hard to forget when the person who is supposed to love and support you the most is the one who hurts you the most. When your own mother has a history of emotional abuse or neglect towards you, it's no wonder you struggle with depression and anxiety. The wounds may have healed, but the scars still remain.
See also: Signs your mom may hate you.
Toxic Mother Psychological Impact
Growing up with a toxic mother can leave lasting psychological scars that can be difficult to recognize and even harder to overcome. As a child, the effects may not have been obvious, but as an adult, you may begin to notice subtle, lingering issues that stem from your childhood. Experts warn that a toxic home environment can even rewire a child's developing brain, warping their perception of themselves, others, and the world around them. The psychological impact can be profound and long-lasting.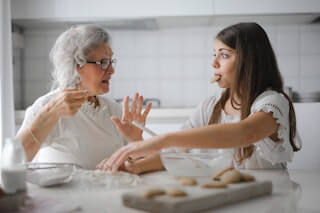 Experts suggest that there are subtle ways in which having a toxic mother during childhood can impact a person during adulthood. Let's take a look.
Mental Health Problems
Growing up in an abusive environment with a negative mother can leave deep and lasting wounds on a child's mental health. PTSD, depression, and anxiety are just some of the struggles that can arise from such experiences. Additionally, anger issues may also develop as a way to cope with the overwhelming emotions caused by the abuse.
Low Self Esteem
Long after you leave home, your mother's voice might linger in your mind as a harsh inner critic. This can lead to low self-esteem and self-doubt, causing you to avoid new opportunities out of fear of failure. Even when you do succeed, you might feel like it's never enough.
Inability to Trust
Being raised by a toxic mom can leave you feeling isolated and untrusting of others. As an adult, you may struggle to establish meaningful connections with others, or worse, find yourself in unhealthy relationships with people who only reinforce your negative experiences.
Susceptible to Abuse
Growing up with a toxic parent can have a profound impact on the way you view yourself and the world around you. You might find yourself constantly trying to please others to earn love and approval that you never received at home.
Fear of being abandoned or rejected could lead you to become clingy or avoid any relationship where you feel vulnerable. Setting boundaries might feel impossible, and you could find yourself getting into unhealthy or even abusive relationships just to meet that craving for attention.
Identity Confusion
A toxic mother with clinical depression can leave you feeling lost and unsure of your own identity.
Instead of focusing on your growth and well-being, a toxic mother may prioritize her own needs and desires.
Even as an adult, the impact of this can linger and affect your sense of self-worth and confidence. You may have made choices solely to please your mother, rather than pursuing your own passions and goals.
Managing Mother-Induced Depression
As a child, you didn't know any better. Toxicity was all you knew and seemed normal to you.
But as an adult, you've gained independence, self-awareness, and the ability to form healthy relationships. Recognizing that your mother's toxicity is the root cause of your depression is a huge step, and it's not your fault.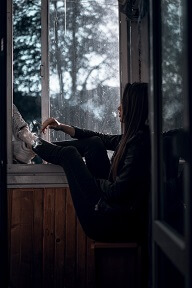 Here's how you can start your healing journey and break the cycle of toxic relationships.
Stop Trying To Fix Them
As an adult, you may feel like you can finally have that heart-to-heart with your toxic parent and have a better relationship with them. However, it's important to remember that change is a two-way street and toxic people are often unwilling to take that route.
But here's the thing, you're all grown up now. You don't need them to be the parents you always hoped for. You have the power to seek love and support from other sources.
Cut Ties
When you realize that your mother is toxic and triggering your depression, it might seem like the best approach is to confront her and try to set boundaries. But in reality, toxic people are unlikely to change their ways. They may even try to blame you for the issues in your relationship.
While cutting off contact with a parent may seem extreme, it is sometimes necessary for your own well-being. It's important to remember that you have the right to protect yourself and limit their negative impact on your life. Consider taking this step if you find that establishing boundaries is impossible.
Disrupt the Toxic Cycle
Toxic moms with depressive or anxiety disorder can leave you with emotional wounds, but don't let those scars dictate your behavior and turn you into a toxic parent. It's important to recognize any harmful habits or thoughts you may have inherited from your mother. You can start by asking people close to you for feedback, such as your significant other, best friend, or siblings. Once you identify any toxic patterns, it's time to find the cure and break the cycle for good.
Find Support
As mentioned previously, cutting ties with your mother may be required. Sometimes, people who don't understand your situation may suggest that you reconcile with your toxic mother, but it's important to remember that you made the right decision for yourself. You don't have to justify your choice to anyone who can't relate.
Instead, surround yourself with people who can understand and support you. Build a network of individuals who can provide you with the love, affection, and validation that you may have missed out on as a child. Seek out others who have also experienced toxic families but have gone on to cultivate healthy relationships.
Consider Therapy
Healing from the deep wounds inflicted by a toxic mother can be a long and challenging journey. You may feel guilty or ashamed to even speak about the traumatic experiences you've been through. But remember, you don't have to go through it alone.
Individual therapy with a licensed clinical psychologist is a great place to start. It provides a safe and confidential space for you to share your feelings and experiences without fear of judgment. A trained therapist can help you process your emotions, identify negative patterns of thinking, and replace them with healthier ones. Online therapy platforms like BetterHelp offer a convenient and accessible option for anyone looking to start therapy.
If your mother is open to it, family therapy can also be a useful option. It can help to address the root causes of your toxic relationship and facilitate healthy communication between family members.
Remember, seeking help is a brave and necessary step towards healing and building a happier, healthier life for yourself.
Also read: Long-Term Effects of Authoritarian Parenting On Mental Health
Other Resources
In this part of the article, I've handpicked a variety of resources for individuals grappling with the challenges of a negative and depressing mother. These carefully chosen materials are designed to offer the necessary support and tactics you require to manage these difficult circumstances and progress.
"Toxic Parents: Overcoming Their Hurtful Legacy and Reclaiming Your Life" is an enlightening book that guides you towards emotional independence. Authored by Craig Buck, this book helps you understand and break free from the damaging patterns established by your parents. It's a journey of self-discovery, offering you the tools to build self-confidence and inner strength. This book is a valuable resource for those seeking to understand their past and shape a healthier future. Look for it on Amazon now.
"Difficult Mothers, Adult Daughters: A Guide for Separation, Liberation & Inspiration" is an empowering book by Karen C.L. Anderson. It provides practical tools and insights to help women emotionally separate from their mothers without guilt, fostering personal growth and transformation. Anderson's work is based on her own experiences and those of hundreds of women she has worked with, making it a relatable and compassionate guide. This book is not just about understanding the complexities of mother-daughter relationships, but also about finding your own path to happiness and self-fulfillment. See it on Amazon.
"I'm Glad My Mom Died" is a raw, honest exploration of a daughter's journey through the loss of a toxic mother. This is a memoir by A. Lynn Blanco, who shares her journey of healing and self-discovery after the death of her toxic mother. The author explores the impact of her mother's death on her life and how it led to her personal growth. She discusses the challenges she faced, the lessons she learned, and how she was able to find peace and forgiveness. It's a raw and honest account that may resonate with those who have experienced similar circumstances. Buy it on Amazon today.
Final Thoughts
In conclusion, having a toxic mother can cause a significant amount of psychological damage, leading to anxiety and depression in adulthood. But there is hope for those struggling with negative thoughts and coping strategies. You don't have to suffer alone or silently. You don't have to continue being around your mother and feeling depressed.
One of the most important things you can do for yourself is to seek help. It's okay to admit that you need help and to reach out for it. If being around your mom is making you depressed, virtual therapy platforms like BetterHelp may help you find a sense of safety and a counselor who can guide you through the healing process.
Remember, you can break the cycle and have a better life. Don't let your maternal relationship define you. With therapy and support, you can overcome mental illness and live a fulfilling life.
Feeling stuck and unsure of how to move forward?
 BetterHelp's online therapists can offer you the guidance you need.
Picture a life where you have a trained advisor helping you through life's toughest challenges.
Begin Your Healing Journey with BetterHelp Now and Receive 20% Off of Your First Month.
.

As a BetterHelp affiliate, we may receive compensation from BetterHelp if you purchase products or services through the links provided.