Last updated on June 17th, 2023 at 11:08 pm
As a
BetterHelp
affiliate, we may receive compensation from BetterHelp if you purchase products or services through the links provided. theMentalDesk.com may be compensated for referrals by the companies mentioned below. As an Amazon Associate we earn from qualifying purchases.
Feeling unloved by your mother can be a heart-wrenching problem, leaving you feeling unworthy and unimportant. But recognizing the signs of a toxic mother-child relationship is the first step towards healing.
Maybe your mom prioritizes a perfect house over your emotional well-being, criticizes you constantly, or seems always angry. In this article, we'll explore 17 signs that may indicate a problem with your mother, discuss possible explanations for her behavior and offer solutions to help you cope and heal. Join us as we dive into the ways to identify and overcome the challenges of a damaged mother-child relationship.
Signs Your Mom Hates You
1. She's Unsupportive
Your mom was supposed to be your biggest fan, cheering you on, giving you sage advice, and being the soft landing when life got tough. They are supposed to support and love their children unconditionally. But what happens when the opposite is true? When you don't get that tap on the back or words of encouragement? Well, my friend, it's time to start seeking support elsewhere!
Luckily, you don't have to look too far – your trusty friends are always there for you. With their unwavering support, they can become your makeshift family, cheering you on every step of the way. So let's ditch the negativity and embrace the power of positive friendships!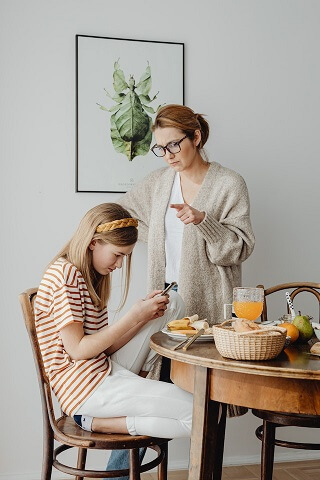 2. Lack of Affection
It's never easy to admit, but sometimes the truth hurts: your mom might not be feeling the love. Let's face it, a mother's love is supposed to be as infinite as the universe, right? So if "I love you" seems to be a phrase that's barely in her vocabulary, it definitely causes concern. Sure, some moms aren't the hugging, cuddling type, but there's a big difference between being stoic and being downright wicked.
Read: Is your mother triggering your depression?
3. She Blames Your For Her Unhappiness
If your mom is constantly laying the blame for her misery at your feet, it's easy to start feeling like the world is against you. And let's be real, nothing breeds resentment quite like constantly being the target of someone's anger.
But here's the thing: your mom's unhappiness and negative feelings aren't about you – it's about her. And the best way to deal with it is to show her that you can find your own joy, without relying on her. Not only will it be a satisfying smackdown, but it might just teach her a thing or two about personal responsibility.
4. She's Belittling
It's no secret that being belittled by your mom can be seriously demoralizing. She's always got an eye on your every move and never seems to think you're measuring up to her lofty expectations. But here's the thing: progress is progress, no matter how small. And every baby step you take is a win that deserves to be celebrated. So next time you're feeling down about not meeting your mom's standards, take a moment to recognize all the hard work you've put in. After all, no one else can dictate your worth – only you can do that.
5. She Doesn't Listen
Listening isn't just about hearing words, it's about paying attention and responding thoughtfully. Active listening means giving your full attention without judgment, but sadly, not all moms are great listeners. If your mom never seems to truly hear you out, it's easy to feel neglected and alone. People who don't listen are often closed-minded and uninterested in others' perspectives.
6. She's Childish
Is your mom constantly acting like a child and relying on you to take care of her emotional needs? It's important to recognize this behavior as a sign that she may actually hate you. She's not allowing you to grow and thrive as a person and demands that you put her first in every situation. It can feel like you're playing the role of the parent instead of the child. But it's important to set boundaries and prioritize your own needs, even if it means standing up to your toxic mother.
7. She Gossips
C'mon, we're all a bit nosy at times. Spilling secrets is entertaining, especially when it's about someone whose life seems too good to be true. But when it's your own mom gossiping about you, it's no longer amusing. Moms should be proud of their children's accomplishments, not spreading rumors about them. A mom who talks behind your back is both unsupportive and envious all at once.
8. She Dismisses Your Feelings
Are you someone who struggles to express your negative emotions? Take a closer look at your relationship with your mom. Is she inadvertently teaching you to suppress your feelings, or does she dismiss them altogether? Either way, it's important to find healthy outlets for your emotions. Turn to your supportive friends or seek the guidance of a professional therapist. Don't let your mom's behavior hold you back from expressing yourself. It's time to take control of your emotional well-being.
See also: Why Is My Mother Always Angry At Me?
9. She's Jealous
Hey, let's talk about moms and jealousy, shall we? Here's the thing: moms can get pretty envious of their daughters, especially when their daughters are doing better than they ever did.
It's not uncommon for moms with emotional issues to feel threatened by their daughter's success, beauty, and intelligence. It's a shame because daughters are supposed to look up to their moms as role models. But if your mom is ungrateful and resentful towards you, it could be a sign that she doesn't have your best interests at heart. Keep an eye out for this kind of behavior from toxic parents, and don't let it bring you down!
10. She's Overly Critical
If you suspect that your mom doesn't like you, this sign is a dead giveaway. It's when your mom becomes a constant source of negativity in your life.
Her unsolicited opinions and harsh criticisms can chip away at your self-esteem and leave you feeling inadequate. She doesn't seem to care that her words hurt you deeply.
Unlike a supportive mom, a critical mom is quick to point out your faults and mistakes. This can make you feel like you're not even human.
But don't worry, you're not alone, and there are ways to cope with this kind of mom.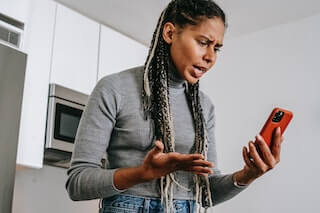 11. She Guilt Trips You
Buckle up, because with a mom who hates you, you're in for a guilt trip. And no, I'm not talking about a fun family vacation.
Guilt-tripping is when your mom manipulates you into feeling guilty for not doing what she wants. This emotional blackmail is a toxic tactic that will leave you feeling responsible for her happiness, even when it's not your job to make her feel that way.
Don't let her play games with your emotions and make decisions that don't align with your values. It's time to take control of your life and break free from the guilt-trip cycle.
12. She Doesn't Respect Your Boundaries
Teenage rebellion can be tough, but it's even tougher when you have a toxic mom who doesn't respect your boundaries or privacy. It's important to remember that you have the right to set your own boundaries and demand privacy in your own space.
Don't let your mom's toxic behavior make you feel like you don't have control over your own life. Keep communicating your boundaries clearly and firmly, and stick to them. Remember that one day you'll have the freedom to live independently and create distance between you and your toxic mom.
Keep your chin up and stay strong.
Read: What to do if your mother is depressing & negative.
13. She Wants You To Fail
It's heartbreaking to realize that the person who's supposed to love and support you unconditionally can be the one who brings you down.
When your own mom hates you, she'll be quick to point out your mistakes and failures, as if waiting for you to mess up so she can say, "I told you so." It's like she doesn't want you to succeed, or worse, she wants to see you fail.
As a teenager, you're navigating your way through life, making choices and decisions that shape your future. It's tough enough to do this on your own, but having a mom who isn't on your side can make it feel like an impossible task.
14. She's Abusive
When you have an abusive mom, it's hard to think of anything else. Whether she's physically, verbally, emotionally, financially, or psychologically abusive, it's all wrong.
Abuse isn't just limited to physical violence like hitting, slapping, or kicking. Words and actions can hurt just as much, if not more. It's essential to equip yourself with the knowledge of the patterns of abuse, so you can recognize it and protect yourself from it.
Remember, you don't have to tolerate any form of abuse, and you deserve to be treated with respect and kindness.
Read: How to deal with a narcissistic mom.
15. She's Always Comparing
Oh boy, it's the comparison game again. You know the one where your mom tries to one-up you by saying she did better than you when she was your age? It's like she's stuck in the past, and she can't handle the fact that you're doing well in your own right.
It's not healthy for her to compare you to your siblings or even herself. It shows that she has a strong desire to control you and make you feel inferior.
Don't let her comparisons get to you. You're doing great, and you should be proud of yourself!
16. She Values External Validation More Than You
There's nothing worse than feeling like your own mother values the opinions of others more than your own. As a child, you should always come first in your mother's eyes, and your voice should be heard and valued.
However, if your mom constantly seeks validation from others and puts their opinions before yours, it's a major red flag. This behavior shows that external validation means more to her than the love and respect she has for her own children.
It's time to have a serious conversation with her about why your opinions matter and why she should put your needs first.
17. She's Mean
When you start to recognize signs that your mom doesn't like you, it's natural to wonder why she feels that way.
Unfortunately, sometimes the answer is that there's no specific reason, and it's just her personality. Some mothers are simply mean and aggressive, or have mental health issues, and nothing you do will change that. Maybe she grew up in a toxic environment herself and is simply repeating the same patterns of behavior. Some mothers that hate their children feel guilt and shame from their own childhood that continues into adulthood.
But don't lose hope, because even if you can't change her, you can change the way you respond to her negativity and take steps to protect your own well-being.
What Can You Do If Your Mother Hates You?
Dealing with a mother who hates you can be an incredibly painful and isolating experience. You might feel like you're constantly walking on eggshells around her, trying to avoid her anger or disapproval. It can be hard to understand why your mother treats you this way, but one thing is for sure: you don't deserve it. The first step to healing is to talk about it. It's not always easy, but you need to express your feelings to your mother. If that's not possible, seek professional help.
Need Someone To Talk To?
BetterHelp connects you with licensed therapists online.
Think about the relief of sharing your burdens with a professional.
>> Start your journey with BetterHelp now and receive 20% off of your first month.
.

As a BetterHelp affiliate, we may receive compensation from BetterHelp if you purchase products or services through the links provided.
Confront Her
If you do decide to confront your mother, it's best to do so when she's in a good mood and not busy. It's possible that she doesn't realize the impact of her behavior on your well-being. It's important to be honest, but also leave room for forgiveness if she acknowledges the hurt she's caused you. But if the conversation doesn't go well, it's okay to set boundaries and seek maternal support elsewhere, like your grandma or aunt.
Remember, you can't change your mother, but you can change your own focus. Work on yourself and your well-being, practice mindfulness and deep breathing, and you might find that your relationship with your mother improves along the way. But if it doesn't, prioritize your own health and safety. Don't hesitate to talk to a professional counselor or seek support from friends or siblings.
Therapy Can Help
Forgiveness can be hard, but it's important for your own mental health. Holding onto resentment and anger can consume you, so it's best to seek forgiveness therapy to help you learn how to let go of your hurt. If you're struggling with your relationship with your mother, you may want to consider seeking professional help through a therapist who specializes in parent-child relationships.
Remember, your mother's treatment is not a reflection of your worth. It's about her own struggles with love and relationships. Seek help to process your emotions and move past the pain. It's possible to rekindle a relationship with your mother through apt mental health treatment, so don't give up hope. Online therapy services like BetterHelp can provide a safe space for you to sort through your emotions and find a healthy way to move forward.
Final Thoughts
In conclusion, if you think your mom hates you, remember that it's not necessarily your fault. Mothers can hate their children for various reasons, and sometimes it's due to their own unresolved issues. Your mother may not realize the impact of her behavior on your mental health, but you don't have to suffer in silence. It's okay to seek help and prioritize your own well-being.
Remember, a toxic relationship with your mother can leave you feeling overwhelmed with guilt and shame. But know that you're not alone. A mental health professional can help you overcome these feelings and address the emotional toll that your mother's behavior may have on you. They can provide a safe and supportive space to help you heal and move forward.
If you need help finding a therapist, consider reaching out to online therapy services like BetterHelp. A therapist can provide you with the support and guidance you need to navigate your relationship with your mother and take care of your mental health. Remember, you deserve to be happy and healthy, and seeking help is a sign of strength, not weakness.
Feeling stuck and unsure of how to move forward?
 BetterHelp's online therapists can offer you the guidance you need.
Picture a life where you have a trained advisor helping you through life's toughest challenges.
Begin Your Healing Journey with BetterHelp Now and Receive 20% Off of Your First Month.
.

As a BetterHelp affiliate, we may receive compensation from BetterHelp if you purchase products or services through the links provided.