Last updated on March 30th, 2023 at 01:53 am
As a
BetterHelp
affiliate, we may receive compensation from BetterHelp if you purchase products or services through the links provided. theMentalDesk.com may be compensated for referrals by the companies mentioned below. As an Amazon Associate we earn from qualifying purchases.
Depression in athletes is a serious problem in today's world. In a given year, depression is thought to affect 6.7% of the adult population. Certain age groups, such as young adults and older individuals, have higher incidence rates than others. Five to seven million high school students compete in competitive interscholastic sports each year, and about 400,000 college athletes compete in the NCAA. Sports medical professionals have questioned earlier beliefs that athletes are immune from mental health difficulties due to the high prevalence rate of these conditions in several age groups and the vast denominator pool of athletes. According to preliminary research, athletes are not completely immune to depression. This article's goal is to evaluate what we currently know about depression in athletes.
Athlete Depression Prevalence
Many current college athletes struggle with depression. Simply attending school can make some students depressed. When you add in athletics, the problem can become compounded.
The majority of research studies to date on the prevalence of depression and anxiety among athletes involved collegiate players. According to the results of these studies, depression prevalence among collegiate athletes ranged from as low as 15.6% to as high as 21%. These prevalence figures indicate that up to one in five athletes may be depressed. The results, however, have generally been inconsistent up to this point.
See also: Why does school make me sad?
Sports-Related Injuries And Depression
Different athletes may react differently to injury, and there is no set pattern or course of action. The response to an injury spans the period right away following the injury, the post-injury phase, followed by rehabilitation, and finally the return to activities. The majority of injuries allow the athlete to resume their previous level of exercise. But, in more severe situations, an athlete's playing career can be in jeopardy, and the healthcare professional needs to be ready to handle these problems. The choice to return to play is ultimately made by the team doctor, and dealing with psychological problems plays a big role in this decision.
It's critical that student-athletes, coaches, administrators, athletic trainers, and team physicians recognize that emotional reactions to injuries are common. It is vital for the sports medicine staff to be able to identify symptoms of depression. Problematic reactions, on the other hand, are those that either don't go away, get worse over time, or seem to have excessively severe symptoms.
Depression is a typical reaction to injury, which amplifies other reactions and can also have an impact on recovery. Some athletes' depression may also be linked to poor performance. Athletes who suffer severe injuries, including knee injuries that require time away from the field of play, may experience physical, emotional, and quality-of-life problems.
After a skiing accident, while she was in her twenties, my neighbor suffered serious leg and knee injuries. She struggled with severe depression while she was recovering. "I reached my absolute rock bottom", she said. "I never imagined having a life-changing event like that. That was a result of my legs wasting away, the fresh wounds, and feeling imprisoned." In the end, she received care and resumed skiing before finally retiring.
Career Termination Impact
A significant life transition occurs when an athlete's career comes to an end, and these changes may affect their interactions with others, their responsibilities in society, and their everyday routines. Although the end of an athlete's athletic career signifies a big life transition, psychological suffering is not always the result. Some athletes move smoothly from competitive athletics to sports retirement, which enables them to seek new employment choices and career trajectories. Others may find this shift to be a challenging process that has been linked to emotional anguish and behavioral problems. For instance, the end of a sporting career has been linked to unhealthy coping mechanisms, sadness, anxiety, increased aggression and rage, and substance addiction.
It's likely that a number of moderating and mediating factors affect how an athlete reacts to having their career cut short. The distinction between voluntary (i.e., personal choice to retire) and involuntary (i.e., injury, illness, being released from the team) career termination is one factor that has drawn a lot of attention. It has been proposed that an athlete's mental health will suffer more from involuntary career termination than from consensual career termination.
Athletic identity has drawn the greatest attention as a potential personal element that could affect the process of transitioning out of sports, although voluntary versus involuntary career termination has been the most thoroughly studied situational aspect associated with the end of an athlete's career. The extent to which an athlete defines themselves in terms of their sports function is known as athletic identity. The results of studies repeatedly show that those who have a strong and exclusive athletic identity face more severe and frequent psychological and emotional problems after leaving athletics.
Need Someone To Talk To?
BetterHelp connects you with licensed therapists online.
Think about the relief of sharing your burdens with a professional.
>> Start your journey with BetterHelp now and receive 20% off of your first month.
.

As a BetterHelp affiliate, we may receive compensation from BetterHelp if you purchase products or services through the links provided.
Performance Pressure and Depression
From a psychological standpoint, athletes who experience a deterioration in their athletic performance or a disastrous ("choking") sports performance may be more likely to exhibit depressive symptoms. Conceptually poor athletic performance may cause behavioral deactivation, unfavorable self-perceptions and assessments, and a sense of powerlessness or hopelessness, all of which are signs of depression. When evaluated in an objective light, athletic competition can result in increased rates of loss over the course of the year, and ultimately only one team or athlete may reach the summit while everyone else ends their season or career with a defeat in competition.
Sports medical professionals need to be mindful of the psychological effects of losing or failing personally during competition since some high-performing athletes may be more prone to anxiety and depression when presented with performance outcomes that are below expectations. Individuals providing holistic care for the athlete should be aware that there are many factors that can affect expectations for sports performance, including not only the athlete's perspective but also those of teammates, coaches, and family members.
Underreporting Concerns
Athletes frequently downplay their depressive symptoms in an effort to provide a positive image of themselves. Unlike non-athletes, athletes may have certain hesitations when taking a depression assessment, such as worries about coaches learning their results or anticipation of reactions when admitting to being depressed. Researchers are usually interested in how responses affect reporting on self-report surveys, and this issue may be particularly important for measuring depression among athletes at the collegiate level. Anecdotally, when evaluated for depression symptoms, athletes typically present an image of psychological toughness. There seems to be a propensity to spend a lot of effort looking "fine" or "okay" and preparing for the upcoming task or competition. This is ingrained in the athletic culture since confidence is frequently seen as a mental state required for success. Unfortunately, it makes it very difficult for sports medicine specialists to precisely gauge an athlete's mental state. The issue of underreporting of depressive symptoms in athletes should be considered in future studies, especially if it uses self-reported data.
Athlete Suicide Risk
A greater emphasis has been placed on and discussion of possible risk factors for suicidal behavior in sports as a result of a number of recent suicides of current or former athletes and concomitant media attention. Similar to the general population, athletes do in fact think about and attempt suicide. There is a shortage of studies identifying risk factors for suicidal behaviors in athletes and a lack of knowledge regarding guidelines to assess suicidal potential in athletes, despite the fact that suicide among athletes continues to occur and that participating in sports may increase rates of depression and potentially increase the risk of suicide.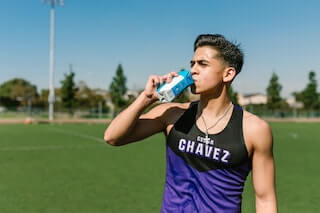 Using clinical practice guidelines as a guide may be the most efficient way to put methods to control athletes' suicide risk. In terms of suicide and the reduction of suicide risk, there is still much that needs to be understood about the identification and evaluation of athletes who are at risk.
Depression in Athletes: Warning Signs
With more prominent athletes speaking out or seeking therapy, depression in athletes is now less stigmatized in the public eye. Sports psychologists and organizations are now accessible to assist.
It is crucial to recognize a mental disorder like depression. It is essential to inform coaches and athletes about its implications. Below are some common signs of depression in athletes.
Struggling With Performance Expectations
Athletes with mental illnesses see a gradual decline in performance over time or changes in both competition and training. Some athletes, particularly in team sports, exhibit increased aggression. This behavior shows up in the form of disagreements with officials or team members.
Physical Setbacks Take a Toll
An athlete who is depressed is more prone to illness or injury. They may seem to miss more training sessions than other people. They could see physicians more regularly if they're trying to disguise the problem, either at work or elsewhere.
Injuries or illnesses might also result from fatigue. Daily training loads that don't allow for adequate recovery could be a sign of a mental health issue.
Athletes who are injured or undergoing treatment are more prone to suffer from depression and anxiety. This could potentially result in an even longer recovery period.
Losing Interest in Former Activities
Depression makes athletes less motivated to work out. They may start to arrive late or depart before other team members. Athletes typically remain after competitions to talk, get criticism, or assess their opponents. It's unlikely that the depressed athlete will be enthusiastic.
Moreover, they might be less focused on the workout and/or socially withdraw. They might communicate less about what they're doing, and others might even give up the sport altogether.
Avoiding Social Interactions
Clinical depression can manifest as social withdrawal or becoming less extroverted than teammates. The athlete has periods of increased isolation and withdrawal. Even when they are around their friends, family, or fellow athletes, they may still feel alone and quiet. This is a very common sign associated with depression.
Find out why nothing is funny anymore.
Personality and Habits Shifting
Athletes that are depressed occasionally get angrier or more violent. Athletes' frustration with themselves, their teammates, or the staff might be a sign of a mental health issue. At the site of activity or outside, irritability is possible.
In rare instances, the athlete may cry more, act and seem flat, or take on a completely different persona. In rare instances, the person may even do self-harm to themselves and dress in such a way as to hide it, or they may even broach the subject of death or dying. An athlete's customary actions might transform into signs of depression, and growing isolation is usually a sign.
Some student-athletes suffering from depression also exhibit increased signs of anger.
Sleep and Eating Habits Become Altered
Regular well-being examinations are performed and athletes' sleeping patterns and quality are routinely evaluated. Regular naps in between sessions and occasionally finding a quiet spot to sleep during the day are examples of changes in sleeping patterns.
Depression can also be indicated by an increased appearance of fatigue and diminished concentration. Occasionally the athlete will eat in isolation, which results in weight loss or gains. Each of these has an impact on performance throughout practice and competition.
Difficulty Concentrating on Tasks
Depression can make it difficult to remember details or focus during meetings, activities, performances, and daily tasks. The athlete can also find it challenging to communicate or concentrate on what has to be done. If someone is speaking to them, their thoughts could wander.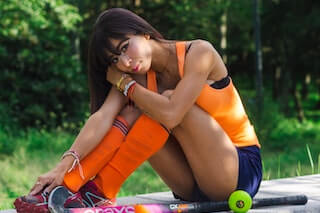 Reduced attention span and altered emotional state are additional effects of concussion or a history of trauma. You should be checked for depression if you've had a concussion.
Substance Abuse
Depression can alter drinking patterns, and some athletes may begin drinking or drinking more heavily and frequently. Athletes may even locate a secluded location to drink, but since alcohol has a negative impact on performance, this could cause problems during practice or competition.
The usage of drugs may also be an indication of depression in the athlete. Although anti-doping organizations typically catch this, it's possible that the athlete wasn't tested while the substance was in their system. If a person is using alcohol or drugs, teammates or other peers may notice a change in behavior or a tendency to cover up or hide.
FAQ
Why do athletes suffer from depression?
It is speculated that the reason athletes suffer from depression is that there are risk factors more specific to athletes (including illness or injury, abrupt career termination, performance targets, and potentially overtraining) that may raise the risk of depression in comparison to the general population.
Is depression more common in athletes?
It is too early to tell if depression is more common in athletes. Recent studies have shown that because of the physical and mental demands of the athletic environment, athletes may be more susceptible to depression than the general population.
Do elite athletes suffer from depression?
According to research, elite athletes were just as likely to experience depression as the general population.
Do pro athletes take antidepressants?
Antidepressant medicines are often used by well-known pro athletes. Swimmer Michael Phelps is known to have taken ADHD medication as a child.
Conclusion
According to a review of the literature, athletes can experience depression and are not magically immune or resistant to mental health struggles. In fact, compared to the general population, it is hypothesized that there are risk factors more specific to the athletic community (such as injury, forced career end, performance standards, and perhaps overtraining). A higher rate of depression than in non-athletes may exist in some subpopulations of athletes. Undoubtedly, athletes do experience depression. There is a devastating result that can be related to depression in athletes: suicide.
There are currently few evidence-based interventions that have been proven to be successful in treating athletes with clinical levels of depression, and little is known about the best way to detect depression in athletes. Future research on depression in athletes should examine potential differences between the assessment and treatment of depression in athletes and non-athletes.
If you are a current athlete, former college athlete, or retired athlete with depression or other mental health challenges, it's important that you seek help from a mental health professional.
Feeling stuck and unsure of how to move forward?
 BetterHelp's online therapists can offer you the guidance you need.
Picture a life where you have a trained advisor helping you through life's toughest challenges.
Begin Your Healing Journey with BetterHelp Now and Receive 20% Off of Your First Month.
.

As a BetterHelp affiliate, we may receive compensation from BetterHelp if you purchase products or services through the links provided.