Last updated on June 23rd, 2023 at 06:20 pm
As a
BetterHelp
affiliate, we may receive compensation from BetterHelp if you purchase products or services through the links provided. theMentalDesk.com may be compensated for referrals by the companies mentioned below. As an Amazon Associate we earn from qualifying purchases.
The act of constantly trying to convert someone with a new set of beliefs is known as brainwashing. It's useful to consider identity when discussing brainwashing. A person who has been brainwashed gives up their previous identity and adopts a new one. But is there a way how to undo brainwashing? We'll answer that question in this article.
The person's thinking and behaviors are altered by the indoctrinated beliefs that support their new identity. The individual changes into a whole new person, in some cases.
Our civilization brainwashes us all in different ways. It's the socialization process we all go through to become more culturally literate. Although the term "brainwashing" has a bad reputation, it is not always a negative thing.
Brainwashing can lead people to adopt positive views. We are brainwashed into learning a lot of stuff, at least while we are young.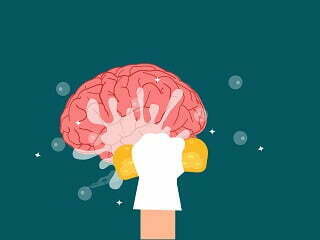 Basically, brainwashing takes on new beliefs without exercising critical thought. Kids need to be brainwashed because they lack the capacity for independent thought and must be made into useful members of society. But as a person age, it becomes increasingly crucial for them to evaluate the truth of their convictions.
Adults who don't question their views are more likely to be abused and exploited. Teenagers who successfully navigate the individuation stage and have a solid sense of self have steady levels of self-worth.
This is not to imply that people who have established a solid sense of who they are cannot be brainwashed. Even the most stable individuals might become susceptible to brainwashing due to certain life situations.
How Does Brainwashing Work?
Brainwashing is the process of manipulating a person's beliefs, thoughts, or actions through psychological manipulation. If a person is brainwashed, they may no longer be able to think for themselves and may act on orders without considering the consequences. Brainwashing is often used by totalitarian regimes to control their citizens, and can also be used in cults and other groups to manipulate members.
When I refer to brainwashing in this post, I'm referring to a brainwashed adult who abruptly changes into someone else. Brainwashing is typically linked to abusive people and cults. The following individuals commonly use brainwashing:
Extremist Preachers
Toxic spouses and parents
Psychics & palm readers
Big tech & mass media
Underground societies
Brutal dictators
Cult leaders
Insurgents
People that brainwash do so in order to acquire control over, use, and profit from the brainwashed.
Everybody cannot be equally brainwashed. Certain individuals are more susceptible to brainwashing. Usually, specific things happen that render people particularly vulnerable to being brainwashed.
People who have established a solid sense of who they are are less susceptible to brainwashing. They are resistant to being persuaded by other people's opinions. They are aware of their identities and desires. Their skills, traits, abilities, passion, and purpose—intangible qualities that no one can strip away from them—serve as the bedrock of their identity.
This is significant because a person can have grown a strong sense of self that is built on shaky ground. Most individuals who strongly identify with their employment, relationships, and material belongings can attest to this.
There is a huge hole left in their identity when a crisis occurs and they lose their jobs, relationships, or assets. They struggle with identification issues.
Someone experiencing an identity crisis is in desperate need of a new identity. Because brainwashing promises them a new identity, it makes them more susceptible.
Need Someone To Talk To?
BetterHelp connects you with licensed therapists online.
Think about the relief of sharing your burdens with a professional.
>> Start your journey with BetterHelp now and receive 20% off of your first month.
.

As a BetterHelp affiliate, we may receive compensation from BetterHelp if you purchase products or services through the links provided.
People socialize themselves into their identities. Therefore, identity creation is a social phenomenon. Creating an identity that is acceptable to their ingroups is a goal for most people.
Group psychology is a crucial component in brainwashing because of this. When a person is brainwashed, they typically abandon their prior group (and associated identity) and join a new one (and related identity).
The following steps are used by brainwashers to do their brainwashing:
1. Isolate Their Victim
If the victim is disoriented and already experiencing a crisis, it is likely that they have mentally cut themselves off from their own group. The brainwasher physically separates them as well by transporting them to a new area and instructing them to discontinue all communication with their former group.
2. Degrade The Target
The abuser or brainwasher makes every effort to entirely erase the victim's prior identity. They will mock the target's past behavior and present way of life. They will make fun of their prior views and allegiances.
They frequently ridicule, embarrass, and torture the target in an effort to quell any resistance and destroy what little self-worth the target may still have.
3. Promise A Better Identity
The victim is now prepared to be molded into the shape that the brainwasher desires. The brainwasher makes a life-altering promise about a new identity for them. The brainwasher urges the prey to join his or her circle, where other participants have undergone similar changes.
This takes advantage of the target's basic human desire for an identity valued by the group or society.
4. Offer Rewards
When a new member joins the cult, the existing members celebrate because it makes them feel successful. The victim feels they have accomplished something significant. The brainwashing organization will frequently give the recruit a new name that corresponds to their newly assumed identity.
Signs Of Brainwashing
Brainwashing can lead to false beliefs, attitudes, and behaviors that are not the person's own. Signs that a person has been brainwashed may include the following indicators which you should be aware of.
They become obsessed with the group, the group leader, and their new ideals. They keep bringing up these topics nonstop.
They aren't the same person anymore. They've changed into a different person.
Unquestioningly following the group leader might lead to people hurting themselves. However, they are blind to the harm being done to them.
Strong ties to their new convictions. They'll keep pointing out all the ways you're incorrect. They present themselves as having "the solution."
Need Someone To Talk To?
BetterHelp connects you with licensed therapists online.
Think about the relief of sharing your burdens with a professional.
>> Start your journey with BetterHelp now and receive 20% off of your first month.
.

As a BetterHelp affiliate, we may receive compensation from BetterHelp if you purchase products or services through the links provided.
How To Undo Brainwashing
It can be incredibly difficult to reverse brainwashing if a victim has been subjected to it for a long time and in great depth. The degree of brainwashing will determine how long it takes to undo.
As beliefs mature, they become more difficult to change. It's best to reverse a person's brainwashing as soon as possible.
Here is the procedure for how to undo brainwashing:
1. Separate Them From Their Group
So long as they remain members of their group, they will continue to reinforce their identity and values. Isolate them from their group as a primary step. Environmental support is necessary for our views.
The victim's mind can take a break and have a chance to reconsider things when it is isolated or placed in a new setting.
2. Be On Their Side
Curiously, the techniques used to reverse brainwashing are essentially the same as the initial brainwashing. This is because of the way the mind functions. The laws of the mind are unavoidable.
By presenting yourself as a member of the target group, you can convince them that you are on their side. They will resist you and view you as the outsider, or the enemy if you attempt to convert them right away.
By being non-judgmental, courteous, non-defensive, and sympathetic, you can demonstrate to them that you are on their side. Avoid giving them any justification to oppose you.
3. Question Their Beliefs
Don't start by trying to disprove their beliefs by pointing out how absurd and incorrect they are. It rarely works and only serves to put them on the defensive.
You should instead approach them with inquiries and sincere curiosity. With the attitude of "Let's dissect these notions together," ask them about their beliefs. As you do this, be sure to gently point out any weaknesses in their reasoning.
This "death by a thousand cuts" strategy will gradually erode their convictions. Repeat it frequently to sow uncertainty in their minds.
4. Tell Them That They've Been Brainwashed
Show them that their beliefs are illogical to the point where you can no longer stand by them. Inform them that they have naively embraced the cult's beliefs.
It's crucial to dissociate them from their beliefs while you do this. You should only criticize their beliefs; avoid attacking them.
Rather than saying:
"You are such a stupid person to have fallen for this deception."
Say something like:
"Are you able to see how those people have brainwashed you? We can reverse it together, so don't worry. Together, we can resolve the issue."
This shows that they are distinct from their beliefs. They can reject those views if they have already adopted them.
Your intention is to appeal to their desire for reason. You demonstrate to them how irrational their process of developing their beliefs was.
Read: Why do you feel so dumb?
5. Offer Them Proof Of Their Brainwashing
If at this time they are beginning to doubt their views, you can persuade them even more by demonstrating the tactics and revealing the goals of brainwashers. Show them videos of cults that have brainwashed and damaged people and tell them facts about them.
Their perception that they were influenced like many others and can get back on track is strengthened by this.
As you do this, you're instilling in them the notion that the brainwasher, or outgroup, is their adversary.
6. Help Them Regain Their Previous Identity
If they go through an identity crisis, the brainwashing has been successfully undone. Every time we lose a significant identity, we go through an identity crisis. They might be sad, upset, or enraged.
At this stage, your job is to gradually reclaim their former identity. Talk to them about who they were before the brainwashing, their former selves. Make sure to express how much you and everyone else enjoyed their former selves as you go along.
Let them know the ideas they had, the beliefs they had, and the actions they once took. This will make it easier for them to reclaim their former identity.
It should be noted that once someone has been brainwashed, it may be difficult for them to fully recover from the experience. They're not obligated to. It has pushed their mental limits.
They merely need to let go of the damaging elements of their brainwashed identities and indoctrinated beliefs. The beneficial elements of the brainwashing can be securely retained and incorporated into the subject's former selves.
Read: Learn to reframe negative thoughts.
7. Strengthen Their Identity
Tell them how their brainwasher took advantage of their frail identity and low self-esteem. Assuming that you truly care about them, you'll want to upgrade and strengthen their identity in addition to simply restoring the one they had before.
If people start to identify with transient, abstract things once more, they will once more be open to brainwashing when the next incident arises. You should show them how to become identified with their enduring abilities, attitudes, and capabilities.
This will protect them against future brainwashing and create the road to a healthy sense of self-worth.
8. Encourage Them To Seek Therapy
When someone is brainwashed, they might not even realize that they need help. If you're unable to prove to them that they have been brainwashed, it's important to encourage them to seek therapy in order to start the healing process. Therapists can help people understand what has happened to them and work through the trauma. If you know someone who is being brainwashed, be sure to let them know that there is help available and that you support them. BetterHelp is a great online therapy platform that is a good place to start finding a therapist to help a victim of brainwashing.
Undo Brainwashing Resources
In this section, I've personally curated a list of resources that can be instrumental in undoing the effects of brainwashing. These materials, chosen with a deep understanding of the subject, aim to provide you with the tools and knowledge you need to reclaim your thoughts and regain control of your mind.
"The Rape of the Mind: The Psychology of Thought Control, Menticide, and Brainwashing" by Joost A. M. Meerloo is a classic work on the techniques, the effects, and the science of brainwashing. Written by Joost Meerloo, a Dutch doctor who studied this subject while working for British intelligence during World War II, it is an attempt to explain the method of controlling the mind. The author explores the psychology of brainwashing, revealing how it can be effective in changing one's beliefs and behaviors. He also discusses the dangers of these techniques and the need for ethical standards in psychological research and practice. Get it today on Amazon.
Embark on a journey of self-discovery with "Sanity Lost & Found." This memoir, narrated by the author herself, is a testament to the human spirit's resilience. It's a story of overcoming shame, finding compassion, and healing from life's adversities. The author's experiences serve as a backdrop to understanding the impact of childhood experiences and the power of forgiveness. This book is a powerful guide for those seeking to reclaim their lives from the clutches of manipulation and control. It's a testament to the strength within us all and a reminder that it's never too late to change our path. Look for it on Amazon now.
Conclusion
In conclusion, brainwashing is a serious issue that should not be taken lightly. If you think someone you know may be a victim of brainwashing, there are steps you can take to help them. Remember, it is never too late to undo brainwashing.
If you are concerned about someone you know who may be a victim of brainwashing, please seek help immediately.
Feeling stuck and unsure of how to move forward?
 BetterHelp's online therapists can offer you the guidance you need.
Picture a life where you have a trained advisor helping you through life's toughest challenges.
Begin Your Healing Journey with BetterHelp Now and Receive 20% Off of Your First Month.
.

As a BetterHelp affiliate, we may receive compensation from BetterHelp if you purchase products or services through the links provided.